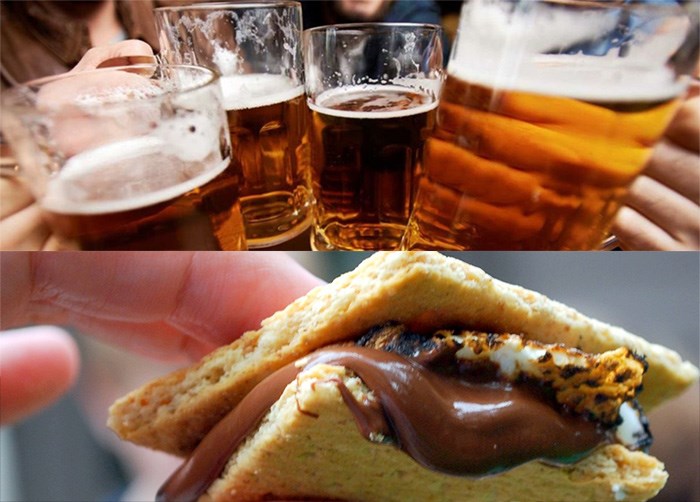 Cold beers. Toasty smores. What could be better on a summer night at sunset? How about three bands performing live? And that it's all totally free?! Seems too good to be true, but it's the real deal. It's the first Jansport Bonfire Sessions in Vancouver, and it's going to be one of the most fun nights of the summer. RSVP to get on the list. See you there!
Jansport Bonfire Sessions is this Saturday night, from 5:30-10pm. Want to know what else is going on? Our city's #knowfun Selectors at Do604 have set you up with an awesome weekend of shows:
1) Sports
at Biltmore - Friday July 21
Get your weekend off to a dreamy start with Oklahoma band Sports. Their breezy indie pop will wash away your weekday exhaustion and get you ready for an awesome weekend!

2) World Naked Bike Ride
starts at noon at Sunset Beach - Saturday July 22
Participate in this wickedly fun event, or watch from the sidelines as all those bums pedal their way past. In either case, this is a do-not-miss event!

3) Jansport Bonfire Sessions Vancouver
outside Monte Clark Gallery - Saturday July 22
It's almost unbelievable that this party is totally free. Three incredible artists from the US - Jay Som, Saba, Xavier Omar - are playing outdoors in East Van, all you can eat smores are being served, as well as complimentary beers & ciders. RSVP to get on the list, and you're in! See you there!

4) JP Maurice & Nuela Charles
at The Railway - Saturday July 22
Two amazingly talented artists you may not yet know about, but you definitely should. Maurice and Charles are rising stars. Catch them at the intimate Railway Stage before they hit the big time.
5) VIVO Fundraiser & Thank You Concert Dance Party
at VIVO Media Arts - Saturday July 22
A digital media centre that's been around for decades, VIVO was broken into in May. The response from the community was overwhelming, so they're throwing a thank you party. Everyone welcome.

6) The Lions We Are concert and fundraiser
at The Red Room - Sat July 22
Proceeds will support the Thrive City String Boot Camp for youth.

7) Surrey Fusion Festival
Saturday July 22 and Sunday July 23 at Holland Park in Surrey.
Showcasing Indigenous, Francophone and Canadian talent, and with BC-born international artist Nelly Furtado headlining, Surrey Fusion Fest will definitely be worth the trip!

8) Jack Johnson
at Deer Lake Park - Sunday July 23
Everyone's favourite "sit around the campfire and wax poetic" surfer-turned-singer, Jack Johnson is back to please the masses.

9) Grownups Read Things They Wrote As Kids
at The Rio - Sunday July 23
As hilarious as it sounds. Laugh away those impending Monday worries at this funny show.

10) Canada 150: Canada Goes Pacific
on Granville Island - Friday, Saturday, and Sunday
See live music by Gypsy Kumbia Orchestra, Le Couleur, Huu Bac Quintet, and Sonido Pesao, contemporary dance by Mamselle Ruiz, film screenings, and much more, all for free. Nearly everything is all ages too!

Have an awesome weekend checking out these shows! You can always head to our Vancouver Events calendar, powered by Do604, for a full list of our recommended things to see and do in Vancouver.