There's so many great shows to see this weekend, from Bonobo at Malkin Bowl tonight through to RAC at the Imperial on Sunday night, with Hump! Film Fest, Fringe Fest, Albatross Music Fest, and of course, the first ever Westward Music Festival happening at various venues around town, so let's get right into it!
Here are this weekend's 13 Best Shows to See, as picked by our city's #KnowFun Selectors at Do604:
Friday Sep 15
Bonobo at Malkin Bowl
This UK-based artist makes magical music; it's a total treat to see it recreated live.

Albatross at Hastings Racecourse
It's the 2nd and last night of this incredible music festival, which brings huge K-POP and J-POP artists to Vancouver.

Did You Die & Frogpile at Railway Stage
Two up and coming local indie rock bands you should catch before they catch international fire!
Netsky at Celebrities
DJ set by drum & bass powerhouse.

Fri & Sat - Hump! Dan Savage's Film Festival at The Rio
Get naughty.

Saturday Sep 16
Market Mexico at Robson Square
Get your fill of the best Mexican food at this outdoor daytime event.

Thrive at Malkin Bowl
Humans, I M U R, Mu, and more play outdoors, for free, as part of this year's AIDS Walk.

July Talk at Malkin Bowl
One of our personal favourites, this growlingly sweet band is a total feast for the eyes. You've got to see July Talk live!

Raleigh at Railway Stage
Experimental indie rockers from Calgary are here to tantalize your ears.

Paul Oakenfold at Celebrities
The legendary DJ and producer never disappoints.

Sun Sep 17
RAC at Imperial
Catch this Grammy Award winning producer in the pitch perfect space that is The Imperial.

All weekend!
Fringe Festival
It's the best time of year for theatre lovers and those who want to experience theatre! On everyday and every night till Sept 17th.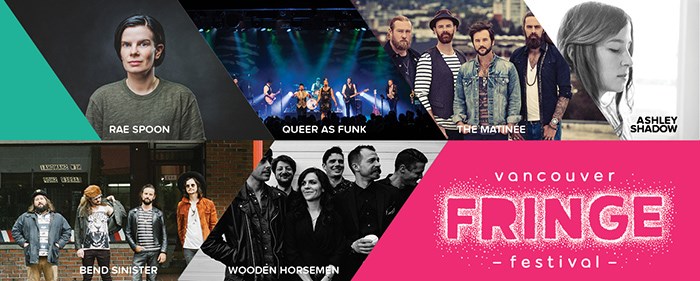 Westward Music Festival
It's the first year of this live music festival that matches international stars with local bands at urban venues across the city. This weekend only - don't miss it!

Have an awesome weekend checking out these shows! You can always head to our Vancouver Events calendar, powered by Do604, for a full list of our recommended things to see and do in Vancouver.