[embed]http://beta.quiet.ly/list/share/dbbc1-4-spots-to-take-your-kids-fishing?width=590&height=0&heightAuto=true&showGradient=true&showMapView=true&showAuthor=false&showLogo=true&showListTitle=true&showListDescription=true&showTitles=true&showDescriptions=true&showWeblinks=true&makeClickable=true&sharePage=true&showEmbedCode=true&showIcons=true&embedTheme=dark&titleSize=18&titleType=quietly&descriptionSize=16&descriptionType=quietly&useOriginalImages=false&lastSlide=default[/embed]
Yes, you read that right. I know you're looking at the rain sliding down your window and thinking - why would I want to go fishing in this? Well, because this is the best time to do it! The sockeye spawn is done, but the Fall run of chum and coho are hungry and ready for action. There's also a number of local ponds and lakes that have been freshly stocked with rainbow trout. All this means that the kids are less likely to get bored, because there will be lots of fish to watch. So, you're basically good to go! Here is a selection of local spots to take your kids, with simple gear, for a little outdoor fun.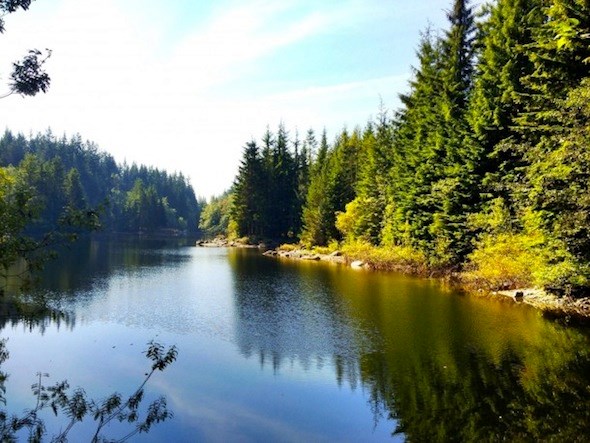 1. Rice Lake is a quick drive from East Vancouver, and has fishing year round paired with gentle hikes. The lake is stocked four times a year with 1300 fish being dropped each time  - three times being in October! You can track the dates when the releases happen here. Generally, the best time to head out is two weeks after the last drop, when the fish are at their most active.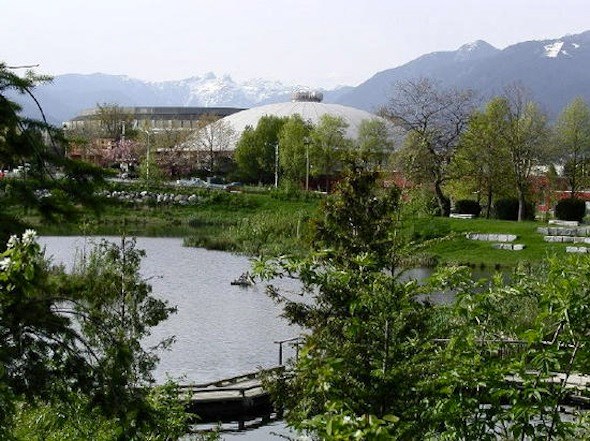 2. Sanctuary Pond in Hastings Park is easily the most "urban" spot on this list, and the smallest. The Pond is stocked with 250 rainbow trout once in June and twice in October. It is accessible by bus and right on the grounds of the PNE (no admission fee when the annual fair is not underway). You must fish from the small dock, as there is a bird sanctuary in and around the pond as well. Step lightly!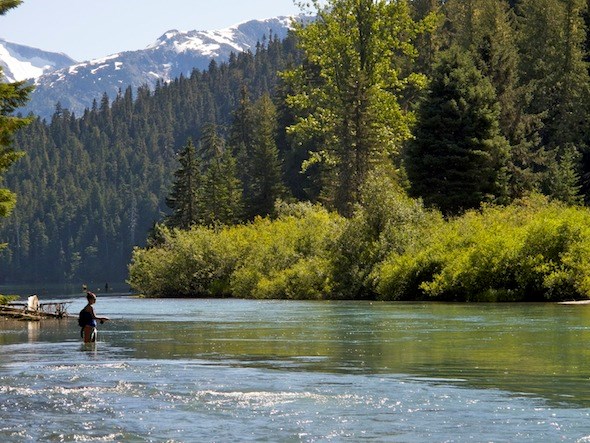 3. Cheakamus River Airport Run is for those that feel a bit more adventurous, and want more of a day trip. This spot is a little out of the way but if you're willing to explore it's well worth the walk. My husband Cyrus has encountered one or two bears on this river bank, so keep alert and don't get too distracted by the beautiful quartz in the surrounding area.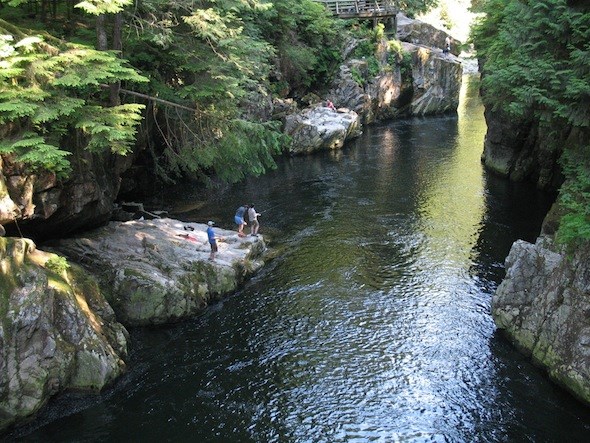 4. Capilano Cable Pool is steps from the Capilano Hatchery, and holds plenty of Coho Salmon if the time is right. The fish enter the system in early September, and if the rain falls enough - which it clearly has - the river level begins to rise and they spill into the pool, ready and hungry.
Don't forget to grab your fishing license before you head out! You just need one for yourself (the adult) and can easily obtain it here.
Links for each photo used found here: 1 , 2 , 3 , 4 , cover photo is my own.

 Carina-Marie Nilsson is the co-founder of Peaks and Harbours, a Vancouver "not just for moms" blog that showcases everything our city has to offer the younger crowd. @carinamarienilsson