There's a buzz amongst the parental folk right now that we're supposed to be thinking about back-to-school lunches and back-to-school outfits for our kids. Well, I'm not ready to start doing that, and want to get in as many summer adventures with the kids as I can before September rolls around. Only thing is, my wallet is tired of spending money, and I have a feeling that yours is too. So, I had a little chat with friends, and here are our top five free adventures in and around Vancouver to take your family on.
Terra Nova Adventure Play Environment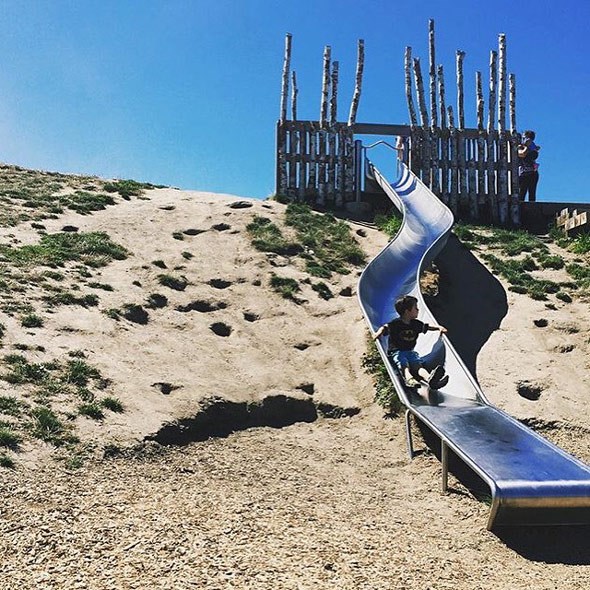 - Image courtesy of Kellie Diguangco
This park in Richmond is the result of extensive community planning, and a focus on sustainable design ideas. You'll find a zipline, an aerial rope walkway, and a Log Jam climbing structure, amongst other wonders. Most of the features are constructed with local Yellow Cedar, and an intention to bring children closer to nature and the thrill of exploration.
Redwood Park (a.k.a. Fairy Hollow, a.k.a. Troll House Central)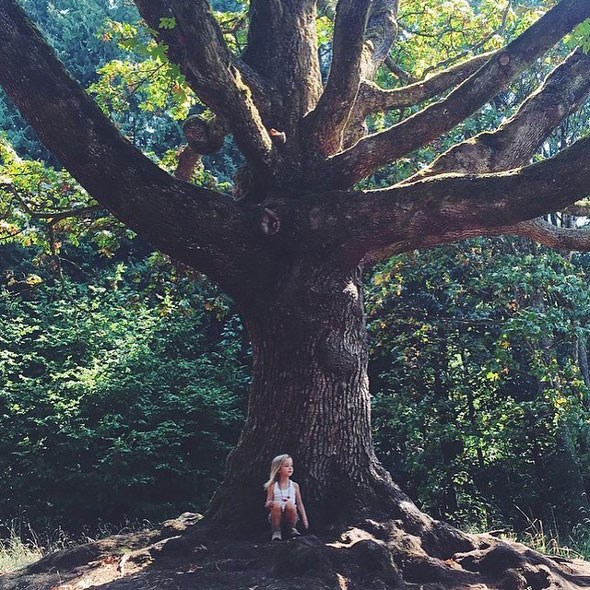 - Image courtesy of Kate Coulson
Redwood Park in Surrey is a completely unique forest experience. The story is, in 1893, a father gifted his two deaf sons 40 acres each of this land. They were both tree enthusiasts, and travelled the world collecting seeds and trimmings of various kinds, and now the park is flourishing with both exotic and local tree types. The feature that will really thrill your kids is the Fairy Hollow, or Troll Homes. You will find hundreds of little colourful doors hidden around the forest, or at the base of the trees, which have been added to by many local residents over the years. Don't forget to check out the giant treehouse that the brothers lived in during the later years of their lives.
Stanley Park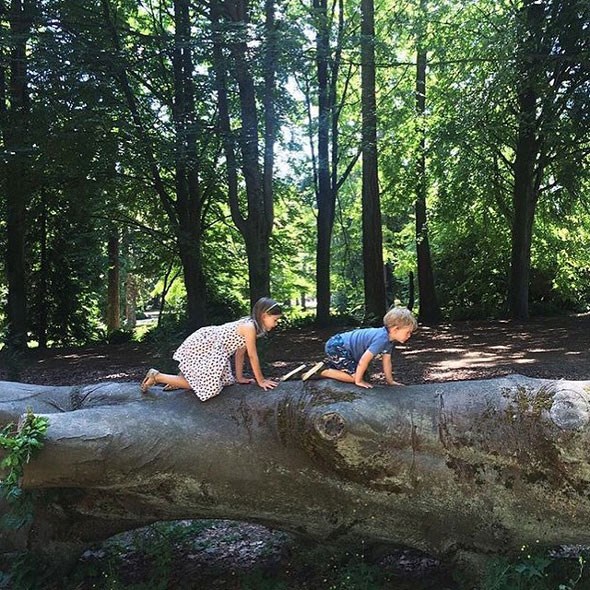 - Image courtesy of  Melisa Thibodeau
You may think of this one as an obvious pick; but, I have to admit that when a friend told me one this was one of her favourite go-to spots with her toddlers, I realized I hadn't actually been to the park with my kids in a number of years. The park itself is beautiful, and has plenty of areas and features to explore. Did you know there are four playgrounds dotted around the park? I know the giant vintage firetruck one would be a hit with my little dude. During the summer months, the park has a Free Summer Fun Centre for kids (10:00am - 5:00pm) where they can get in on art activities, crafts, sports, and more.
Lynn Creek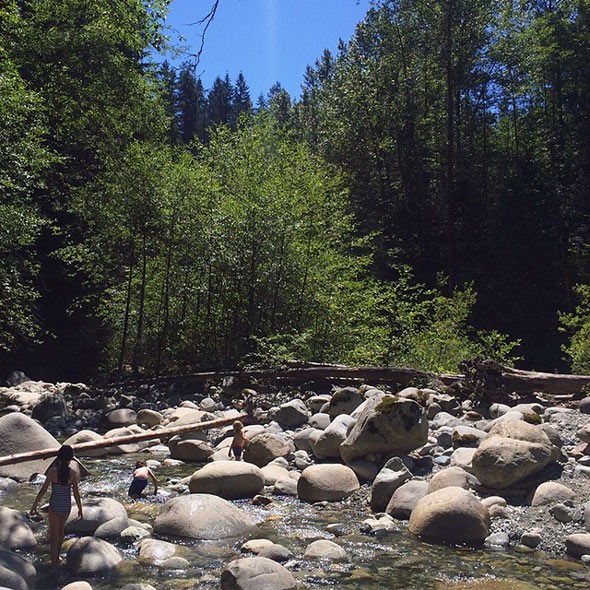 This cool spot, is right underneath the Lynn Canyon Suspension Bridge, where the water is shallow and the tree canopy shades you from the scorching sun. My kids like to play a game of "race the stick" through these waters, and watch the salmon fry dart upstream. There are some incredible natural water slides that the rushing water has smoothed out in the rocks below; but, judging from the speed I saw the grownups getting on those things, it didn't look like a kid-friendly experience. Pro tip! Go before lunchtime or in the morning and you'll avoid the crowds.
Play a Giant Game of Chess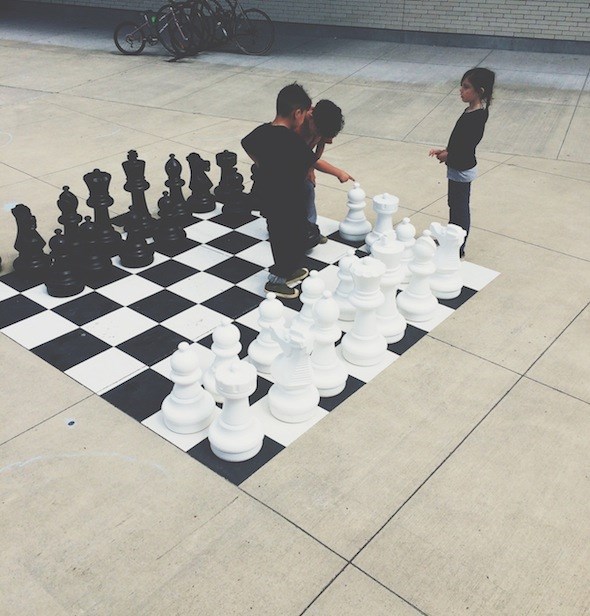 There are two giant chess boards in Vancouver that I know about - if there are others, please share! The one in the picture above is at Hillcrest Centre, our favourite spot for swimming and ice skating, and is located right outside by the bike racks. There is another one located on Ontario & 18th Avenue, amidst a big colourful road mural the locals have painted. There's also one of those free libraries at this location, so you can read a book, take a book, or leave a few behind!

 Carina-Marie Nilsson is the co-founder of Peaks and Harbours, a Vancouver "not just for moms" blog that showcases everything our city has to offer the younger crowd. @carinamarienilsson