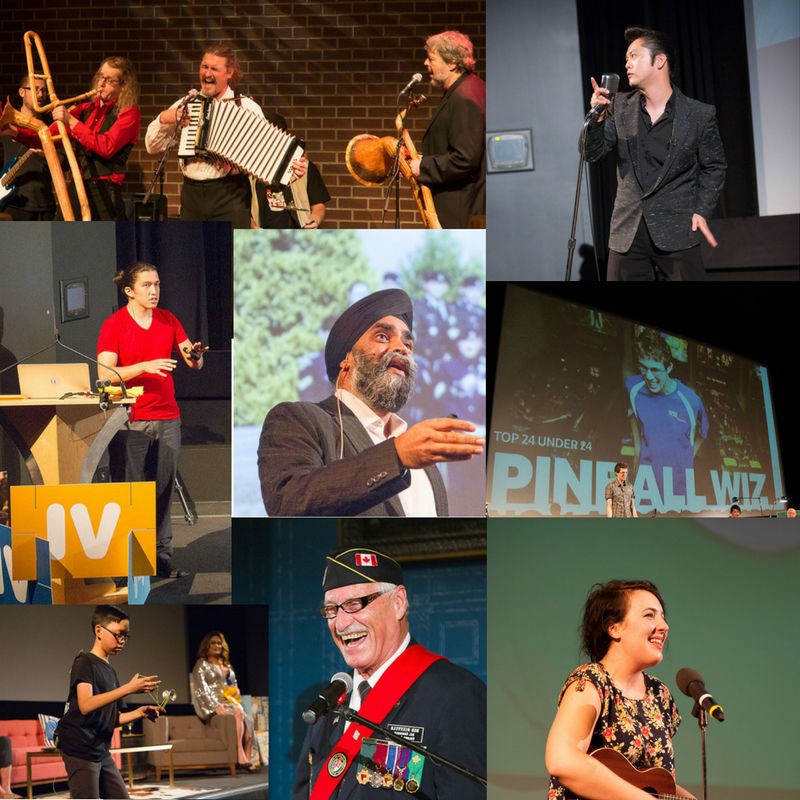 Each year, the Interesting Vancouver team gets together to brainstorm how to keep Vancouverites interested in our event. We try not to be conventional—we have fun and surprise a few people, making each year a different experience. And after 8 years of sold out events, we seem to be doing something right.
So what makes Interesting Vancouver, well, interesting? Upon reflection, here are five key principles that inform how we curate and run the night:
Trust
Few of our speakers have spoken publicly before, especially about their interesting passions, hobbies, and stories, but we trust they can tell their story in their own way. All we can do is give them an encouraging space to share their story.
Courage
There are a lot of practices you're "supposed" to do at conferences but we choose to ignore these because IV isn't about optimization or best practices. We purposely change things up each year in order to keep things unexpected and fun. As an organizer, this is scary but adds to the 'interesting-ness'. Don't worry, we won't make 350 people switch seats halfway through this year but we do have some other surprises lined up. And it's always worth it.
Empathy
The audience is just as important as the speakers. People who come to Interesting Vancouver are naturally curious and quite interesting themselves (even if they don't think so). Interesting Vancouver is a night to lean forward and learn something new, imagining life in someone else's shoes, and gain a new perspective.
Support
Despite the intense planning of the night, there is a strong degree of serendipity—only once the talks begin do we really know what they are about. Interestingly, despite bringing together speakers who aren't aware of what the other will talk about, a theme or two emerges. It's almost as if the speakers channel a reflection of the current collective consciousness of Vancouver. As a result, Interesting Vancouver crowds are very supportive of our speakers: embracing the funny things that happen and any poignant talks fraught with heartfelt moments—it's all part of the fabric that makes Interesting Vancouver so interesting.
Greed-Free
Interesting Vancouver is a not-for-profit aiming to do more than we already do. We have support partners who help subsidize ticket prices and align with our mission, leaving any leftover money to fund activities such as the IV Prize, Interesting Vancouver Presents, and DoShops. While we are thankful for our support partners, our audience knows it's not a sales conference and they won't be pitched to. That would be greedy and not interesting at all.
All in all, we can guarantee you a different experience every time you attend Interesting Vancouver, which is the point. Though each year is different, all five aspects listed above—trust, courage, empathy, support, and greed-free—will be on display. As an avid VIA reader, we hope you'll join us for an interesting night. We sell out every year, so grab a ticket because we do tend to sell out quickly.