Grant Lawrence, CBC host, indie-rock alumnus, and the award-winning author of the bestselling book Adventures in Solitude, has delivered his second word baby to the world. He's named it, The Lonely End of the Rink: Confessions of a Reluctant Goalie.
This semi-autobiographical tale chronicles Grant's elementary and high school years, spent largely ostracized from his peers and perpetually terrified of gym class. The good news is, in later years Grant would be granted a fairy Godmother in the form of older, wiser Narduwar the Human Serviette. Think of this book as a funny, charming, pseudo self help book on how to survive the school years.
Check out Grant's Huffington Post interview with none other than A Good Book Drive's Cory Ashworth.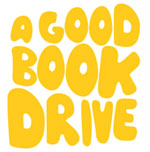 A Good Book Drive is an annual book drive to bring stories to a new generation of readers, and support kids in need of new books. Running through the month of November, A Good Book Drive will be inspiring Vancouverites to purchase a new copy of their favorite kids' book and deliver it to set locations throughout the city. At these drop off locations you can personalize your donation with a special bookplate, sharing the story of why that book is special to you. All books will be donated to this year's book drive recipient, Frontier College Waiting Room Literacy Pilot Project. Share your favourite stories with A Good Book Drive on Twitter, Facebook and Instagram.