Last week I introduced you to Judy Graves, an employee of the City of Vancouver whose business card reads "Advocate for the Homeless" as her title. If you haven't read that article please HAVE A LOOK before you continue.
After my coffee with Judy on Hastings street I boarded the bus with her and her dog, Babs (who is a cute Havanese who travels in a little carrier on transit), and we went up to the temporary winter homeless shelter on Seymour Street at Davie. It had just opened days before and after sitting down with her I now had a better idea of what exactly it is. You likely saw the headline that 160 new temporary homeless shelter beds were opening this winter thanks to a partnership between the city and the provincial government? And that they'll be open until May? But if you're like me you don't really know who will be using those and why the fact that they're "low barrier" is a good thing. In fact if you're like me when you read that headline you didn't even know what "low barrier" meant at all. I'll explain.
The first barrier that the homeless face is simply getting past the door, pictured below, which is always unlocked. Just because people don't have a home doesn't mean they don't have possessions, pets as well as friends/lovers. In some shelters you're not allowed to bring in a shopping cart, and many homeless keep all of their belongings in them. Would you leave all (or any) of your belongings outside? Hell no, you'd simply go somewhere where you can be sure nobody will steal them. In this case, that's in the street. Also, would you leave your pet outside in the winter while you slept? Again, hell no (unless you live on a farm, which I doubt you do). And in the case of a human companion, would you sleep inside if your partner couldn't? These are all easily answered questions. All NO. So in the temporary winter shelters you're allowed to bring pets, companions, and there are secure storage spaces where you can keep all of your belongings whether they're in shopping carts or huge bags.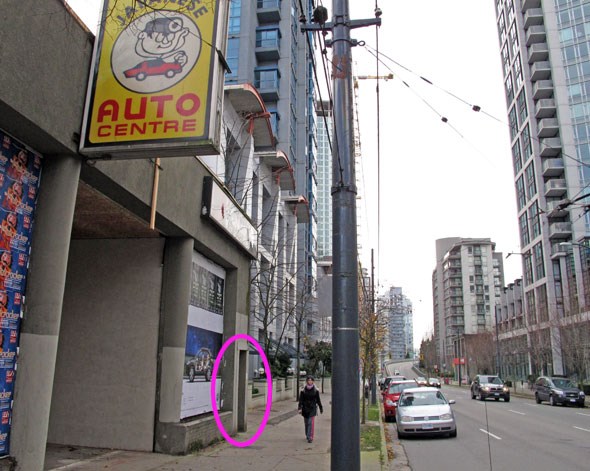 Another barrier to entry at some shelters is drug use and addiction. Nobody is turned away at these temporary shelters, regardless of whether they are using drugs, and in fact there are harm reduction stations in each shelter containing needle exchanges, clean supplies, condoms, etc.
I dug a little deeper and asked if a person didn't have ID would they be able to stay? And the answer was yes. So that's what they mean when they say "low barrier" shelters. These people might have trouble getting into other places in the summer months and perhaps would even rather sleep outside in some cases, but when the temperature dips and the rain doesn't stop, these temporary shelters are crucial for a lot of reasons, public health being one of them.
So let's go inside...
Here's what every one of the 40 people (mostly men) staying in the Seymour Street shelter get upon arrival. A mattress, a clean sheet, and a bin to put their belongings in. That fence in the background is the secure place where people can store all of their stuff, like shopping carts, bikes, etc.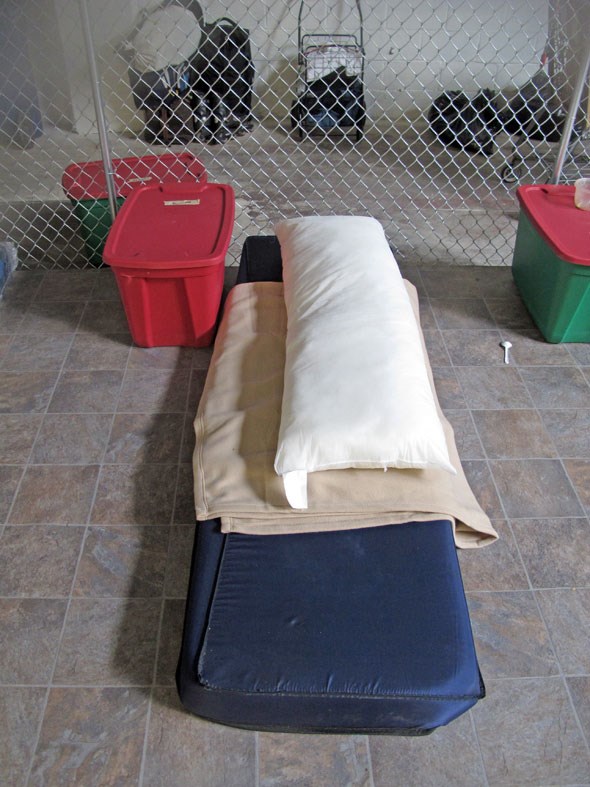 I didn't feel comfortable asking to shoot photos of the people staying in the shelter (because I wouldn't appreciate a stranger walking into my home and doing that), so I'll explain the space a little bit. Basically it's a very large room, with most of the beds in the middle, and the temperature is incredibly warm as you walk in. That was actually the first thing that I noticed, the temperature. I can only imagine that after months of being on the street, walking in to this place and being greeted by actual warmth is welcoming in itself. Knowing that you'll be able to sleep in it must add an entire level, plus the warmth and acceptance of the Raincity housing folks who work here and manage the 4 shelters. It was 11AM when we entered and most of the people were still asleep, still adjusting to their previous schedules of staying up all night and sleeping during the day.
Here's one of the resident's setups. This is Barry's spot. Many of the folks decorate their zones, and over the months if Barry chooses to stay I imagine his space will take on some more character. The rule is first come first served, and if you don't return to the shelter for a couple of days (I think officially it's 48 hours) your bed will be given up to someone else.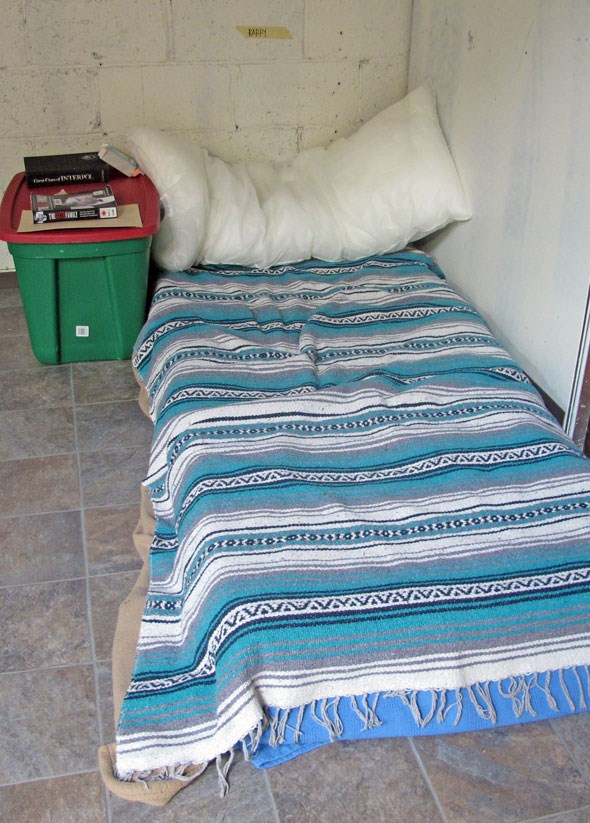 Here's the kitchen area with one of the Raincity folks attending to something. Breakfast is available all day and lunch and dinner are served warm and brought in. Three meals a day. So good.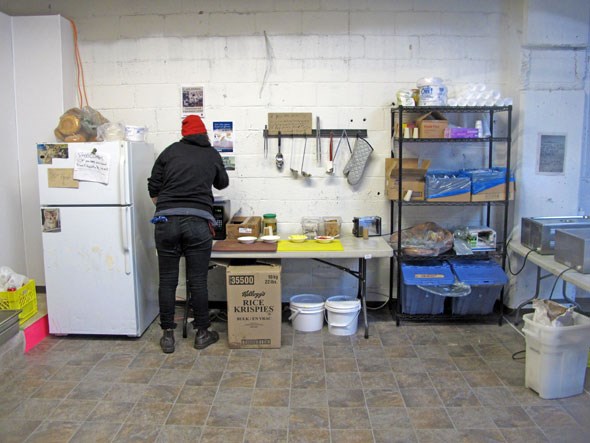 Of course there are washrooms and showers (to the right of the frame of this photo), and here's the laundry area. Laundry is free.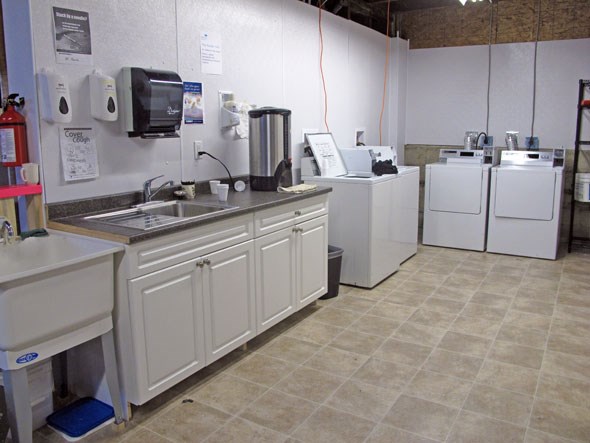 Some basic rules.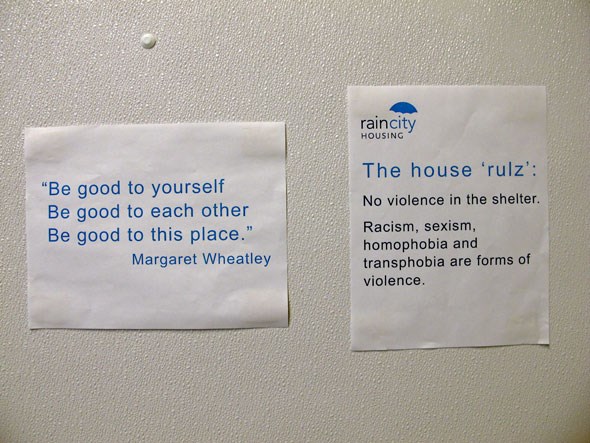 Lastly, here's a photo of Emery Barnes Park (named after Park Board Commissioner Constance Barnes' father), mere steps from the shelter. Kids play here, people hang out here, play checkers on the tables, run around, walk around, walk their dogs, generally be social. This is a place built for public use by people who live in homes or in the street or in other cities and countries - the park is also "low barrier", if you will. Years ago I lived directly across the street from this park and you know one thing that I noticed was missing from it when I visited after my trip to the shelter? People sleeping there on the freezing ass ground and the benches. That is awesome.