Interesting Vancouver Portraits (formerly Interesting Vancouver Presents) is a podcast series hosted and produced by Josh Gabert-Doyon with help from David Swanson. It features conversations with ordinary Vancouverites leading extraordinary lives. This episode features local artist and nightlife historian, Tom Carter.
[soundcloud url="https://api.soundcloud.com/tracks/338627298" params="color=#ff5500&auto_play=false&hide_related=false&show_comments=true&show_user=true&show_reposts=false&visual=true" width="100%" height="300" iframe="true" /]
In 1933, debris from an explosion flew through the window of the Vancouver Cafe and Grill, a restaurant Tom Carter's grandfather owned on the Hastings strip. That event marked the end of his grandfather's restaurant, but years later it would act as the starting point for Tom's investigation into the history of Vancouver's nightlife. Tom started collecting artifacts from The Pantages, the theatre across the street from his grandfather's restaurant that had been bombed by the Chicago mob. He started painting scenes from the city's nightlife district as well, neon lights, rainy streets, and Vancouver's once vibrant Vaudeville performance culture.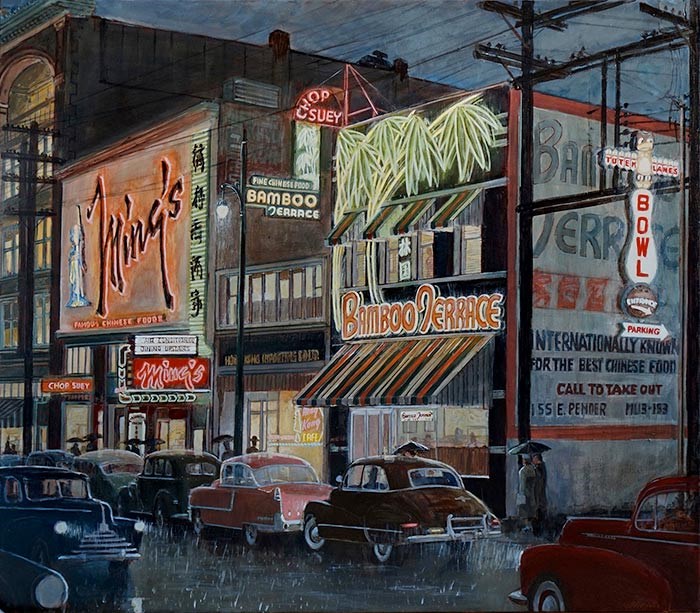 The history that Tom has spent his life preserving is now at risk of disappearing without a trace. Real estate development, old age, and fading memories make it difficult to conserve the city's past. Tom is collecting stories and archiving Vancouver's nightlife history, all while trying to recreate the same scenes on canvas.
This series features past, present and future Interesting Vancouver speakers and members of the IV community. You can follow IV and listen to episodes on Soundcloud, find them on your favourite podcast app, or download for offline listening.
Planning for the 2017 event is already underway, so if you feel inspired to volunteer, nominate a speaker, or financially support Interesting Vancouver, you can email the organizers at info@interestingvancouver.com.