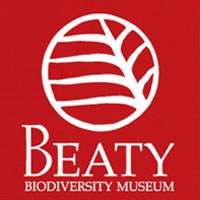 The Beaty Biodiversity Museum is Vancouver's natural history museum. We work to promote a greater understanding of, and collective responsibility for, the biodiversity of BC, Canada, and the World. Come visit us on UBC campus - we're located at 2212 Main Mall, Vancouver, BC. You can find more info at beatymuseum.ubc.ca. Follow us @beatymuseum on Twitter & Instagram and like us on Facebook.
Save the Vancouver Island Marmot from inbreeding!
End homelessness for Dark Saltflat Tiger Beetles!
Prevent Hotwater Physa poisoning!
Don't deny the Yellow breasted Chat it's love nest!
On Monday June 29th from 10:00am - 5:00pm the Royal BC Museum will be visiting the Beaty Biodiversity Museum with their travelling exhibition Species at Risk. The exhibition shows what BC could lose if we don't make big changes to our relationship with the natural world.
The travelling exhibition is housed in an inventively re-made trailer. Interpreters bring the specimens to life with loads of information about the beautiful biodiversity in BC and how we can help save those creatures that are at risk.
Check out the travelling exhibition at the Beaty Biodiversity Museum's Biodiversity Courtyard and Green Roof.  While you're there get a 50% off coupon for general admission to the museum on the same day.