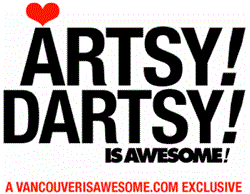 Greetings Vancouver is Awesome readers! Artsy!Dartsy! is Vancouver's online art & design event guide. Offering comprehensive event listings, the site is updated daily to list current and upcoming exhibits, lectures, and shows.It is a resource for casual art-goers, industry professionals and tourist. With a user friendly format, information is sorted by media, venue, schedule and location as well as handy gallery map.We welcome tips and media releases! For the full listing please head to Artsy-Dartsy.com.
The Vancouver Art Gallery currently has an exhibition you should not miss! We originally saw Song Dong's Waste Not installation at the Moma in New York and are happy to be able to visit it here again in Vancouver.
Song Dong's monumental installation Waste Not is a collaboration between the artist and his mother, Zhao Xiangyuan. The installation comprises the frame of his mother's house along with all of the everyday objects she meticulously collected over the course of her lifetime: a collection of over ten thousand worn and broken objects, each one with unlimited potential value. Together, the assembled materials—clothes, books, kitchen utensils, toiletries, school supplies, shopping bags, rice bowls, dolls—were used, recycled, and saved. Meticulously arranged in careful groupings throughout the exhibition space, the objects form a miniature cityscape that viewers can navigate around and through.
Saturday afternoon at 2pm, 2nd fl, Hsingyuan Tsao, professor in art history at UBC will be giving a tour of Song Dong's installation, offering a glimpse into the historical and socio-political context behind the objects that comprise the work. The tour is free with admission.
Of course the Vancouver Art Gallery is also hosting their monthly FUSE friday night. Theme for the evening is STUFF. Admission is $19.50 or Gallery Members Free.
Other notables: Vancouver has an illustration collective 'the Jupiter Project' and they are having their latest show 'All Dress' Friday, Nov 5! Lots of opening this week, see Artsy!Dartsy! for more!