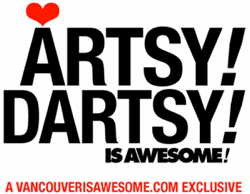 Greetings Vancouver is Awesome readers! Artsy!Dartsy! is Vancouver's online art & design event guide. Offering comprehensive event listings, the site is updated daily to list current and upcoming exhibits, lectures, and shows.It is a resource for casual art-goers, industry professionals and tourist. With a user friendly format, information is sorted by media, venue, schedule and location as well as handy gallery map.We welcome tips and media releases! For the full listing please head to Artsy-Dartsy.com.
Balcone presents Aitken, Donald & Neufeld
Opening Reception: Thursday, Jan 3, 6pm
Balcone (pronounced "balcony") is a nonprofit society that presents contemporary art projects in a variety of situations and spaces throughout Vancouver. Without a permanent location, we operate with mobile offices and flexible programs that are reactive to social, political and economic challenges within the local arts community. Most recently Balcone has been situated on the South Granville art stripe at 2233 Granville Street. This week is a great time to check them out as there are three other shows opening tonight!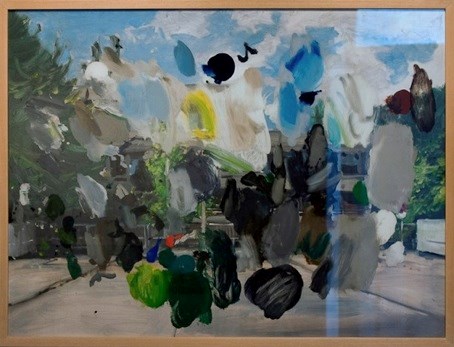 Mark Neufeld, Cul de sac, 2005-09, oil on paper in frame, 20" x 26"
Aitken, Donald & Neufeld is a fundraiser and group exhibition featuring three Vancouver-based artists working in the discipline of painting as medium and subject. Half of the proceeds from art sales will be donated to Balcone, a nonprofit that presents contemporary art projects in a variety of situations and spaces throughout Vancouver.
Mark Neufeld is a Canadian artist from Vancouver who splits his time between Berlin and Vancouver. In 2005, he was chosen as the first inaugural recipient of the Joseph Plaskett Award, which was created to support an artist for a year in Europe. Neufeld's work has been shown in Vancouver, Seattle, Berlin, Toronto, Melbourne, and Skien, Norway. He has a BFA from Emily Carr Institute, and completed an MFA at the University of Victoria in 2005. His recent work emphasizes the process of painting as subject.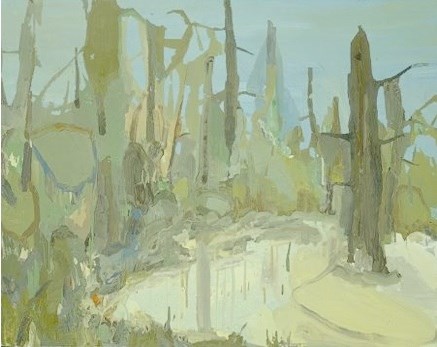 Stephanie Aitken, Carrington Lagoon, 2010, oil on linen, 30" x 36"
Stephanie Aitken is a painter living in Vancouver. Her recent series, Headlands, has been presented at the Helen Pitt Gallery Artist Run Centre in Vancouver, at Eye Level Gallery in Halifax and in a four-person exhibition at Platform Centre in Winnipeg. Her work has been written about and published in the Vancouver Review, the Walrus and C Magazine. She has been a recent recipient of production grants from the Canada Council and from the BC Arts Council. Aitken is currently at work on a series of landscape-based paintings inspired by the Pacific Northwest and Northwest Coast abstraction.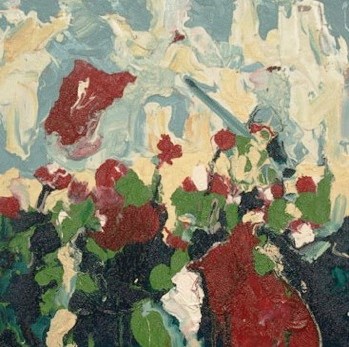 Rebecca Donald, Soldier in Poppy Field, 2010, 36" x 36", oil on canvas
Rebecca Donald lives in North Vancouver. She received her MFA from the University of British Columbia in 2006 and currently teaches painting at Emily Carr University. She has exhibited at the Whitechapel in London (UK), CSA Space in Vancouver and the Morris and Helen Belkin Gallery in Vancouver. She combines drawing, painting, and sculpture in visceral works about the collision of fear and anxiety with domestic space, the body, and more recently, the landscape.