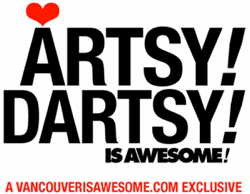 Vancouver has a vibrant art and design scene. It is our mission to make this stimulating world accessible to everyone.Artsy!Dartsy! is Vancouver's online Art & Design event guide. Offering comprehensive event listings since 2008, the site is updated daily to promote current and upcoming exhibits, lectures and shows. It is a resource for casual art-goers, industry professionals and tourists. With a user-friendly format, information is sorted by media, venue, schedule and location as well as handy street maps.For the full listing please head to Artsy-Dartsy.com.
Happy Thanksgiving Weekend! This weekend we will celebrate as we have a lot to be thankful for. Big thank-you to the wonderful creative community in Vancouver for supporting us and all the wonderful things that are going on in our city.
This weekend Art Beatus presents River of Spirit: New Works of Taiga Chiba.
.
Opening Reception: Friday, Oct 7, 3-6pm
New inkwash drawings, collage on wooden panels, and video installation by Vancouver-based artist, Taiga Chiba will be featured in his solo exhibition, "River of Spirit", a show inspired by Chiba's experiences in the Amazon.
Water and play is important in Chiba's art, and his pieces are as fun and fluid as he is technically masterful in his work. The artist's curiousity about life and his experiences in places traveled are the inspiration that drive his art.  With each new series Chiba often experiments with new mediums and different techniques, but the themes in his work remain a constant: life, existence, evolution, and subjects that resemble primordial, microbial or prehistoric creatures; the familiar mixed with the unfamiliar.
The new works are inspired by Chiba's recent experience in the Amazon and are made up of natural, handmade dyes, colour and water - a lot of water.  The artist describes the process of playing with water and colour on paper as something similar to swimming; some pieces, in their final stage, taking months to dry.
Chiba is an acute observer of his surroundings. Floating on the Amazon River in a wooden boat and experiencing an abundance of life in the tropical rainforest - ancient looking fish, night sounds of frogs, small monkeys traveling in trees, and orphaned dogs roaming the markets - largely influenced the wild and playful creatures in his recent works. So did having to adapt to ways of life in the jungle.  When fish bait left momentarily by the river was devoured by large, hungry bees, and a catfish left in a sink was swarmed and eaten by ants, Chiba learned that life in the Amazon moves quickly, and in order to keep up, he would have to do the same.
Born in Shizuoka, Japan, Taiga Chiba graduated with a BA from Musashino Art University in Tokyo. In 1981, he immigrated to Canada and obtained his MFA from Concordia University in Montreal.  A printmaker for over 30 years, he has exhibited locally, nationally and internationally.  Chiba has received numerous grants, awards, and artist residencies and his works can be found in both private and public collections.  Taiga Chiba has been featured in five shows at Art Beatus; 'River of Spirit' is his second solo exhibition with the gallery.
.
Other Notables: Check out our Opening Receptions post for more goodness this week. Blim gallery presents new work by Andrea Tucker Friday and 221A Artist Run Centre presents Relative Value by Gary Warren Hubbs also Friday!