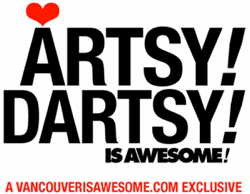 Vancouver has a vibrant art and design scene. It is our mission to make this stimulating world accessible to everyone.Artsy!Dartsy! is Vancouver's online Art & Design event guide. Offering comprehensive event listings since 2008, the site is updated daily to promote current and upcoming exhibits, lectures and shows. It is a resource for casual art-goers, industry professionals and tourists. With a user-friendly format, information is sorted by media, venue, schedule and location as well as handy street maps.For the full listing please head to Artsy-Dartsy.com.
This weekend one of our  favorite places Collage Collage turns 2! And there's a weekend full of festivities to celebrate!
.
Erin Boniferro is the owner, head instructor, buyer, and paint brush cleaner of Collage Collage.
She is a practicing artist with 10 years of teaching experience that started in the back yard with her siblings and ended up at several large art organizations in greater Vancouver. She teaches a number of classes at Collage Collage, as well as maintaining her studio practice that always seems to end up involving textiles in some way, shape or form.
There are two workshops happening this weekend. One at Collage Collage on Friday and one at the Contemporary Art Gallery on Saturday. Workshops are inspired by the current exhibition at the CAG, To Create is to Relate by Sister Corita Kent.
.
To top it off there's an art opening at Collage Collage by Kyu Hwang, a talented Vancouver artist who we've interviewed for Artsy!Dartsy! in the past. We highly recommend going to see the work in person.
See more of Collage Collage here: http://collagecollage.ca
If you have little ones, we recommend you sign them up for some fun workshops!
Other Notables: Check out our Opening Receptions post for more goodness this week. There's a hefty amount of openings this week with SWARM11 going on. Have an excellent art and design filled weekend.