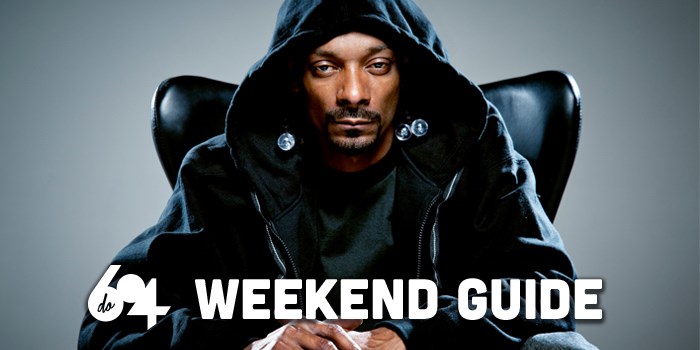 Chocolate bunnies. Egg hunts. More pastel colours than should be legal.
Want to actually have a great time this Easter? Here are the 30 top things to do this weekend, as picked by our city's #knowfun Selectors at Do604.
One of the top picks: vibin' with Snoop Dogg at Rogers Arena Friday night. You'll leave feeling high as a kite.
Thursday April 13
The Very Best of The Judys record release at The Fox
Meet Vancouver's very own indie super group at The Fox!

Foundation Show at Emily Carr - exhibition opening
Peer into the minds of Emily Carr's first year students and see how they experiment with new ideas, processes, and materials.

Kungs at Venue #Seasons2017
Driven melodies, upbeat rhythm and catchy vocals keep you dancing all night.

Sculpture & Soundscapes: A Multi-media Art Show at The Fall
Alex Maher with David Morin at The Railway Stage & Beer Cafe
Monstercat Uncaged at Celebrities #Seasons2017
Friday April 14
Snoop Dogg at Rogers Arena
Get ready to drop it like it's hot. 

Galactic Pegasus at The Media Club
Bone-shattering metal core with riffs sharp enough to cut you. 

C.R. Avery at Hidden City Records
His electrifying performance and flawless vocal delivery will leave you speechless.

Ghost-Note at Alexander Gastown
Pham at Happy Ending Fridays at Fortune #Seasons2017
James Deen's Never Been Cool album release party at The Waldorf
Saturday April 15
Wrekmeister Harmonies at The Cobalt
Bringing the whole spectrum of lightness fading to darkness through angelic vocals and balancing it with thundering distortion and chaos.

Lee K at MIA #Seasons2017
Beachy vibes not your thing? Then get lost in Lee K's wicked techno jungle at MIA!

Skiitour at The Fox
Miss the snow already? Skiitour will be bringing snowy vibes and their funky bassline house to The Fox. 

Girls Rock Camp at The Western Front
Sam Gellaitry at Fortune #Seasons2017
Sunday April 16
Krystle Dos Santos at Guilt & Co
Fusing genres seamlessly with her sultry tone and quirky melodies.

Techno Bunny Riot at Gorg-O-Mish
Uncover local underground & electronic music and see exactly what Vancouver has to offer.

Kitty Nights Burlesque Res-erection at The Biltmore
Want to meet new people and make new connections? Well, this is the perfect chance!

Loco Dice at Celebrities #Seasons2017
Outburst 500 at Harbour Event Centre
Monday April 17
Banks at The Vogue
Get lost in Banks' smoky, swooning vocals and visceral lyrics.

Paul Anthony DJs Vegan Wing Night at What's Up? Hot Dog
A comedian, actor, host of Talent Time and part time Marvel Universe villain. Is there anything Paul Anthony can't do? 

I Am Not Your Negro at The Rio
Get a glimpse at what the book James Baldwin never finished could have looked like.

Dels Extended Weekend at The Junction
David Lynch: The Art Life at The Rio
Ghost Bath with Astronoid at The Astoria
Have a great weekend checking out these events! You can always head to our Vancouver Events calendar, powered by Do604, for a full list of our recommended things to see and do in Vancouver.