Tomorrow night at Blim in Chinatown, my friends Nathan Jones and Daniel Giantomaso (AKA the Star Gods) are teaming up with Joel Rich and Marcus A.M. Hastings to present an art show called "Euclidean Theosophy, part 12". As Nathan and Daniel share a studio in the same building that the V.I.A. office inhabits I've been doing some reconnaissance in order to break down what this seemingly heady art show entails. To bring it down a notch, this giant lightning bolt (which I shot when it was midway being done), some amazing paintings as well as some equally amazing illustrations and music, and beer, will all play a role. The official word is below, we hope to see you tomorrow night at 8PM at 115 East Pender!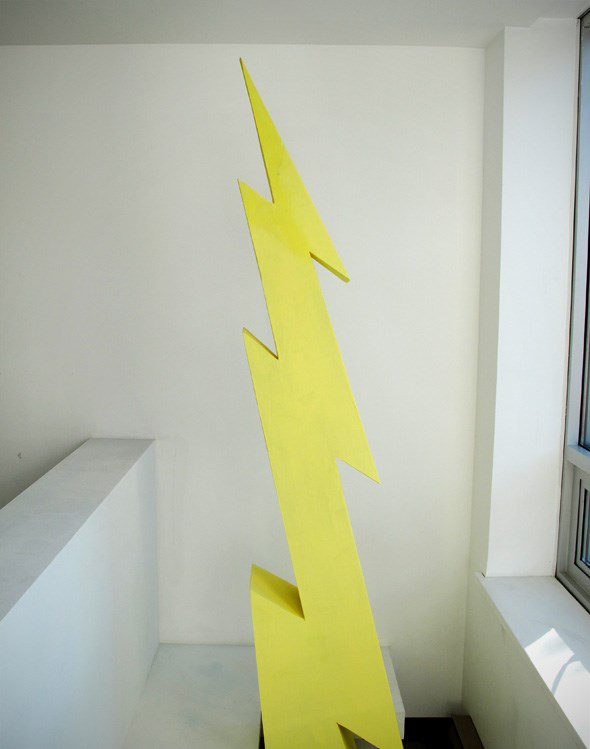 The official word:
Blim presents:
Euclidean Theosophy, part 12 :
The incessant Adventures of Joel Rich, Marcus A.M. Hastings, and the Star Gods
There are those who engage in the act of cartooning, whose appreciation for the medium transcends their simple love of it. For some, the image and style of the cartoon become deified. Over time, memories of story lines and characters found in animated cartoons and comical books, become a part... of their personal mythos. Cartoon characters are the gods and profits of the world they inhabit. They act as moral guides, providing a methodology by which one can relate to the world. They dictate proper and improper actions yet, in the end, absurdity always prevails.
Art and music for this exhibition provided by:
Joel Rich:
Joel Rich lives most of the year in the woods in the interior of British Columbia, milling swords for the LARP battles he initiates with unsuspecting hikers. Sometimes he draws.
Marcus A.M. Hastings:
Marcus A.M. Hastings resides on a small island located in the North Pacific Ocean, on the West Coast of Canada. Shortly, he will embark on a musical pilgrimage to the Far East. Before he departs, Mr. Hastings, in his kindly way, entrusted this exhibition with a thoughtfully selected collection of drawings.
The Star Gods:
Channeling ancient truths by way of ink, paint and audio recording, members of "The Star Gods", Nathan Jones and Daniel Giantomaso seek to unveil a new consciousness of Euclidean Theosophy. The Star Gods possess certification from esteemed academic institutions as well as the Canadian government.
Art Opening - Friday, March 4 from 8-midnite
also featuring: New Window Display by Ricardo Alvarez.
Blimited: Limited Edition Screen printed shirt by the Star Gods available at Blim for month of March.