Scout Magazine recently launched a fantastic resource called the Vancouver Lexicon. Described as "part dictionary of received ideas, part etymological project, and part encyclopedic record" so far it contains close to 200 entries. Not simply definitions, most are accompanied by some searing wit regarding the things that make our city what it is, for better or for worse. Subjects like Duthies Books, China Creek and Beer Island, terms such as getting Donnellized and wonders like the Crow Commute may be of little or no consequence to folks who don't know and love this city but for all of you on the inside this just might be the most important volume published in a long time.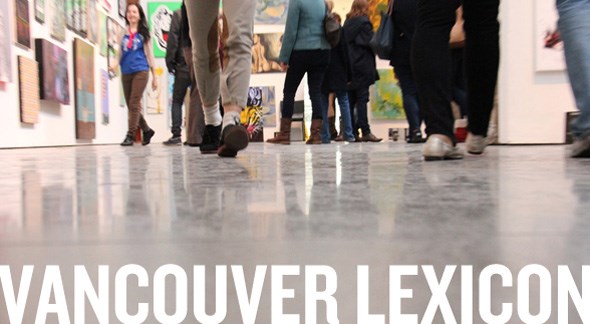 Scout co-founder Andrew Morrison and one of their writers, Sean Orr, began working on the project this past winter during a retreat at my personal favourite Galiano Island destination, Bodega Ridge. Morrison tells me it was inspired by a satirical 19th century work he read in the 1990's called A Dictionary of Received Ideas by Gustave Flaubert. This dictionary was designed to lampoon the clichés and characters of the Second French Empire using humorous cynicism and the dissent of ridicule and wit. Humorous cynicism is largely what I know Orr for as his work for Beyond Robson (an early Vancouver blog which I see doesn't have an entry yet) laid the groundwork for his regular Scout feature Tea and Two Slices where he punches out his subjects regularly. Andrew shares a similar humour - yet perhaps a little more restrained than Sean's - and both know the real Vancouver better than most, so you're guaranteed a few laughs along with the lessons contained in the Lexicon.
So why do one for Vancouver? Says Morrison, "Because it is sometimes too enamoured with itself to revel in its own flaws, let alone admit to them. To codify Vancouver's many imperfections - lest they never be addressed - feels like a necessary thing, almost like a responsibility - albeit one that we take about as seriously as Flaubert did (which is to say not very seriously at all). And because ours is a young city that hasn't quite figured out how to value its cultural history just yet, there are places, organisations, and individuals that need to be recorded for posterity, too."
Have a look at the entries for A-F HERE and look forward to G-Z launching soon, and many more entries being added over the years. This is a work in progress and I look forward to the day they put this in the hands of a publisher (or self publish), so I can buy a copy for the shelf.