Vancouver comedian Charlie Demers' new comedy album Fatherland was released today!
If you've been reading V.I.A. for a few years you'll know that Charlie is a personal friend of mine and that we - the collective "we" here; our editorial team who have come and gone over the last 10 years - think he's hilarious.
There have been no less than 50 posts made on this website over the past decade featuring this man who is beyond a shadow of a doubt one of the funniest and most thoughtful people in British Columbia.
If you don't feel like reading a super long piece CLICK HERE to check out a preview of Charlie's hilarious NEW comedy album and listen to the thing.
Charlie does standup, has written multiple books, is the founder of a new comedy publishing imprint called Robin's Egg Books and is a regular on CBC's national show The Debaters, amongst other things. He's really made it over the past couple of years as the voice of Walter on the popular American TV series Beat Bugs.
So sure, our friend has done a little slug thing with Netflix and got a couple hundred bucks from our national broadcaster but it's only today that he has truly made it; he's released an album on Nickelback's label!
Here's the unsolicited email I got from the president of 604 Records a few hours ago. I've never met this guy and I'm not sure why the head honcho sent it to me personally but he included a press release about the album: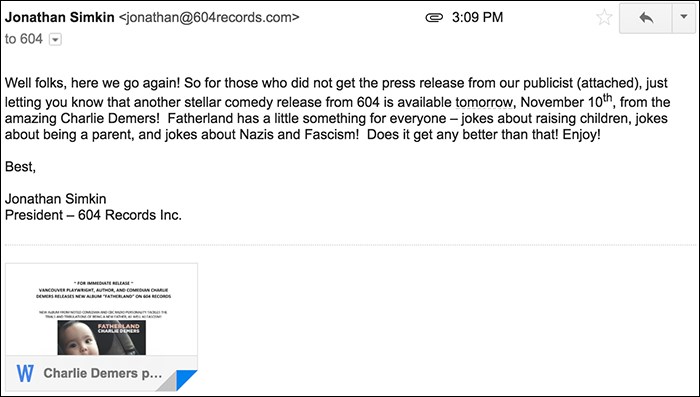 Again, I'd never heard from this guy before, and I was surprised that they'd wait until a few hours before it was released to send this to me, so I responded like this:

President Jonathan Simkin was none too pleased and sent me this response: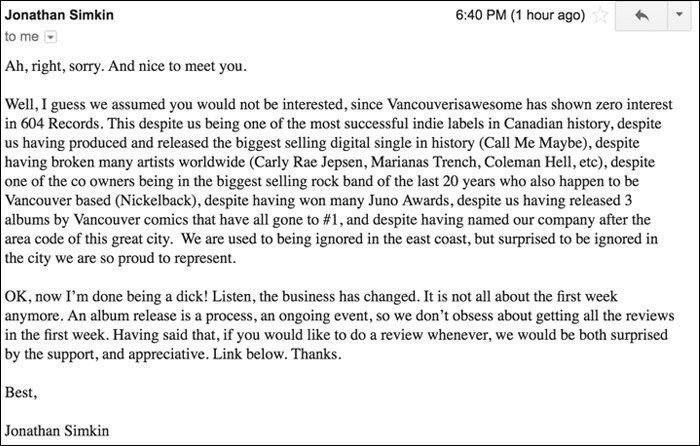 Clearly Mr Simkin is as egoless as I am. I just finished listening to Charlie's album on the world's greatest record label and it is GODDAMNED HILARIOUS AND EVERYONE SHOULD LISTEN TO IT. You should check out THIS ALBUM that features his young daughter throwing a middle finger, as is shown on the cover below.