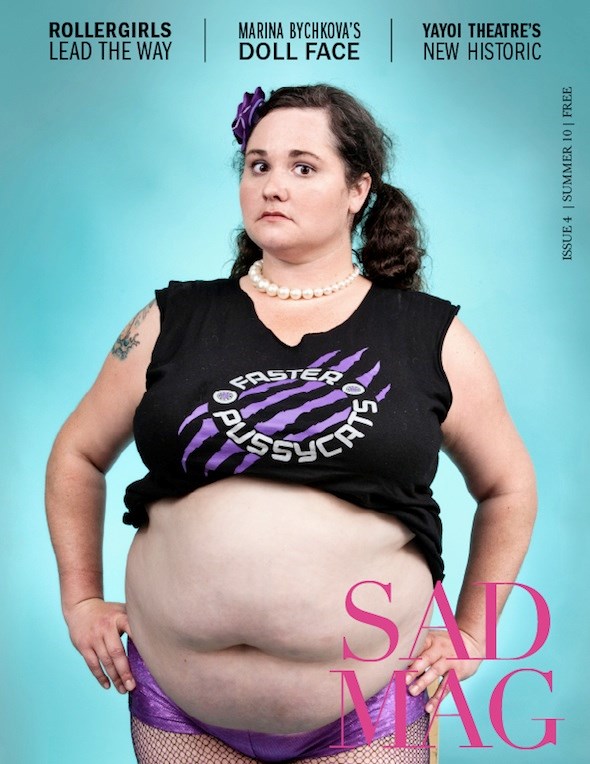 You've only got a few days left to plan your adventure for the Main Street Magazine Tour this Thursday, August 19th. One of the local publications involved is Sad Mag who will be hosting a conversation at Mine:Stylesource with salon owner Jim Dreichel and Burcu Ozdemir (Burcu's Angels) on Vancouver's drag culture, gay and lesbian culture, and the history of Main Street (click here to find out more).
Sad Mag is a quarterly arts and culture magazine showcasing young artists, writers and photographers that proudly call Vancouver home. Inside the covers beautiful art and photography interplay with stories profiling people doing exciting things in this city. Sad Mag is sophisticated, naughty and fun, like chasing a dirty martini with a handful of gummi bears.  Almost a year old, Sad Mag is volunteer run and has a reputation for amazing launch parties with cheap drinks, dancing and a good-looking Vancouverites.
The lovely and articulate Editor Deanne Beattie took me deep into the history of the pages of Sad Mag.
Can you tell me about the birth of Sad Mag?
Brandon likes to say, "never make life plans over sangria."
Brandon and I were living together in 2008 when we got to talking about publishing and the kinds of work we wanted to do in the future. He is a photographer, and I am a writer, but at the time we weren't doing the types of assignments that we really wanted to do.
One evening, over some sangria, Brandon and I hatched a plan to start a small magazine that would give us the opportunity to tell the stories we wanted to tell and also work with some amazing, young, creative people. After the first issue, we were on the publishing treadmill and haven't been able to get off since.
How does it feel to be one year old? What will the next year hold for Sad Mag?
We are so proud of Sad Mag, and all of the incredible contributors and volunteers, that we made it to this one-year point. When we published our first issue, we looked at the first-year mark as a kind of milestone that would determine whether or not our magazine would make it in the long term. Thanks to a hard-working team and a lot of community support, we have made it through the first year and look forward to great things to come.
Starting in October, Sad Mag will be sold by Vancouver booksellers as well as independent clothing and music retailers. This is a huge leap forward for us, and another step in the maturation of our magazine.
What are your hopes for Vancouver's publishing scene?
I must commend the organizers of the 2010 Main Street Magazine Tour. Their program this year reflects our hopes for Vancouver's publishing scene exactly: that it could be a meeting place for artists of every discipline and level of accomplishment. Publishing is a natural place for fine artists, performers, writers, musicians, and even comedians to meet, learn
from one another, and collaborate.
What are Sad Mag's biggest inspirations?
We are inspired principally by the people we profile in the magazine. Everybody has a story to tell, and it's amazing what you can learn from people if you just ask them about themselves. We're also inspired by creative people in Vancouver that make things happen, regardless of funding.
Describe your magazine in 6 words:
Fun, real, bold, sassy, inspired, unapologetic
What should I listen to while flipping through the latest issue of Sad Mag?
Gossip, Peaches and our swedish sweetheart Robyn. The fourth issue is about tough girls who make things happen for themselves.
Want to spend a whole year with Sad Mag as your new BFF? Tell me about your favourite magazine cover ever and be entered to win! I'll announce the winner the day of the Main Street Magazine Tour ( this Thursday, folks ).