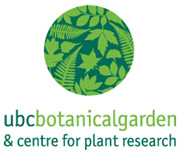 UBC Botanical Garden is Canada's oldest continuously operating university botanical garden. The original mission of the garden was research into the native flora of British Columbia. Over the past nine decades, our mission has broadened to include research, conservation, teaching and public display of temperate plants from around the world, particularly Asian, alpine and native plants. We're also home to the Greenheart Canopy Walkway.Come visit us - we're located at 6804 SW Marine Drive, Vancouver, BC. You can find more info at botanicalgarden.ubc.ca

Tree-chipping fundraiser benefitting the General Brock Elementary School
Date: December 26, 2012 – January 5, 2013
Time: 9:30 am – 4:30 pm
Cost: $5 suggested donation
Location: UBC Botanical Garden, 6804 SW Marine Drive, Vancouver
Community members are encouraged to drop off Christmas trees at UBC Botanical Garden after the holidays. The Garden will chip all of the trees into mulch to be used on garden trails. Please remove decorations, including tinsel and no yard trimmings, as invasive plants from other areas can harm the Garden.
Proceeds support General Brock Elementary School's food garden expansion* to increase capacity for active student participation and organic food crops. This food garden is a school garden project of The Society Promoting Environmental Conservation (SPEC).
"Tree chipping at UBC is a small event with a large impact on local schools," says Patrick Lewis, Director at UBC Botanical Garden. "Over the past five years we are extremely proud that we've been able to help local schools with a range of garden projects, and at the same time help our not-for-profit garden. The mulch generated from the chipped trees reduces the amount of material we need to purchase. Please consider bringing your tree to UBC Botanical Garden this year and support two good causes."
Tree chipping is supported by UBC Building Operations.
For more information on the tree-chipping event, please call 604.822.3928 or visit www.botanicalgarden.ubc.ca/tree-chipping
*Funds may be used for other school garden purposes as needed.