When you see CiTR getting on the bus, you get up. You get up and offer her your seat with courtesy and respect because she's 75 years old this year! Not that she needs to sit down - not by a long shot. She'd probably start a dance battle with you instead, and the whole bus would turn into one bad-ass dance party.
And a BADP (bad-ass dance party) is exactly what you can expect this weekend as our best-loved local student-run radio station celebrates its diamond anniversary. What began in 1937 as the UBC Radio Society, a small club with an hour-long weekly show on CJOR (1926-88), has evolved over the decades bringing us local treasures like Discorder Magazine, SHiNDiG, Nardwuar the Human Serviette, and Mint Records. The station has also been and is very much still an important training ground, embryonic petri dish, and right of passage for Vancouver bands, writers, and radio broadcasters - a creative, musical dojo that's churned out a massive amount of talent these past 75 years.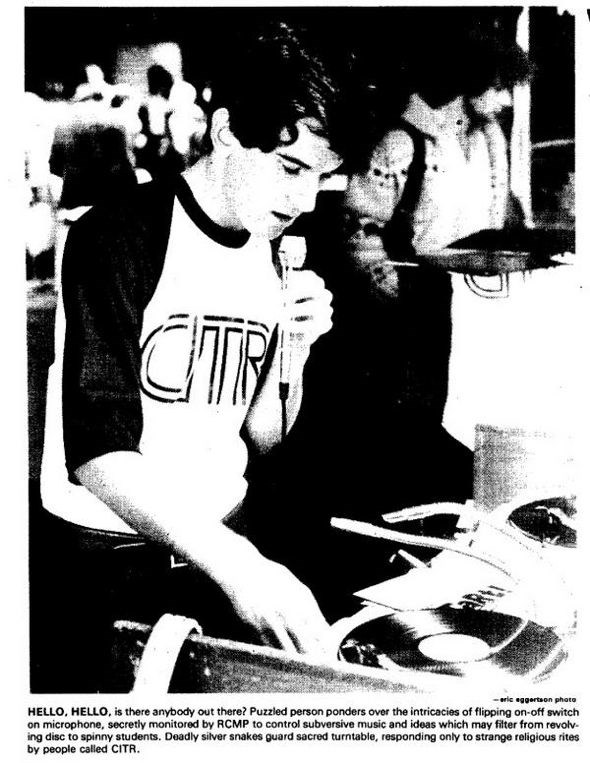 CiTR, September 1980 from Scott Beadle's Myspace Archive (!)
I love this quote from John Tanner in this Ubyssey Page Friday article from 1980 marking CiTR's application for getting onto the FM dial: "They're one of the few radio stations that's tuned into what's happening with new music... The commercial stations all seem to think that all people want to listen to is garbage; maybe CiTR can bridge the gap." It most certainly has bridged this gap, and given us so much more - We owe a huge debt to CiTR for shaping our music scene to be as inclusive, free spirited and vigorous as it is today. What would our music landscape look like without CiTR's influence and contribution over the years? I do not want to know.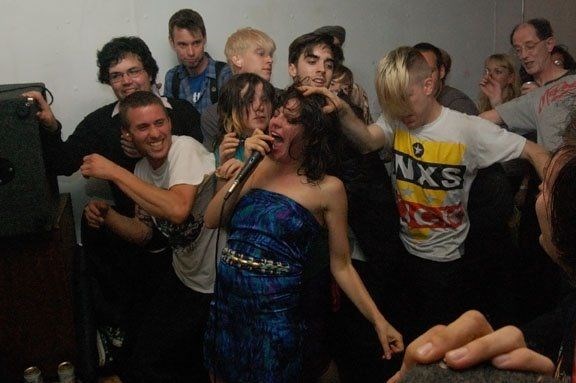 Mutators LP Release Party, August 2008, photo by Quinn Omori
The weekend of festivities kicks off tonight at the newly relocated, ever-awesome Perch for hangouts and informal beers starting at 5pm. Come on down and don't be shy. There are also still a few spots left for the Give Us Your Love Fundraiser Brunch at the Thea Koerner House on campus on Saturday, where for just $10 (or more, tax receipts for donations over $20), you get to show your love and support for this major cultural institution and enjoy a delicious meal with fellow radiophiles. Other alumni events include a chance to get back on the airwaves and relive your time at CiTR! All you need to do is sign up.
And of course, last but not least, the CiTR Diamond Radioversary Party is at Chapel Arts tomorrow - Saturday, November 17th. Come for a great line-up of bands, and fun exhibits of CiTR history. There will be CAKE! It's definitely going to get sweaty. You can purchase tickets online here for $10 in advance. They'll be $12 at the door. Tickets are also available at CiTR, Audiophile, Red Cat and Zulu Records, but call ahead just in case.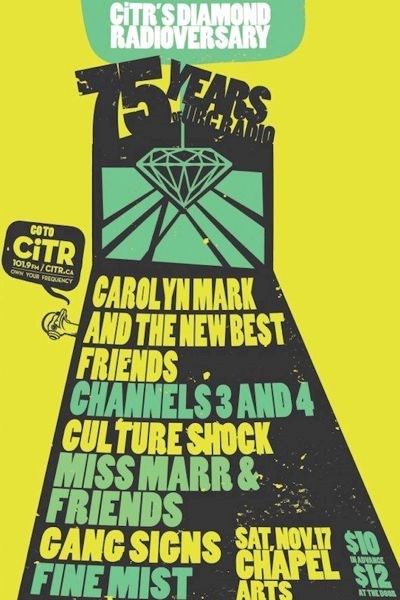 Waaait! There's More!
CiTR's Art director Maegan Thomas and I compiled the following Q&A with Jordie Yow and station manager Brenda Grunau, co-hosts of
Peanut Butter and Jams
, about CiTR and this awesome milestone:
When did you get involved? What motivated you to join? Jordie: 3rd year university, in 2003. Honestly, it was because of a crush, and then I got roped in. Neil Braun [president of CiTR at the time] was like, "Hey, be on the student executive" and I was like "alright." What was your show called back then? Jordie: I did the Discorder show as a fill-in, but no one listened to that so I started doing Lions, Tigers and Bears - a music show - kind of like whatever I was listening to at the time: Quannum hip hop, Ninja Tunes, and indie rock like Interpol and their contemporaries. I remember playing Scissor Sisters.

VIA runs a Nardwuar column. Can you describe your first or favourite Nardwuar encounter?




Brenda:

Nardwuar's so soft spoken when he comes into the station, and when he gets excited, his voice gets higher and higher and faster and faster... Watching him crowd surf while playing the keyboard is phenomenal.

What is Peanut Butter and Jams all about? How long does it take for you to prep for the show? Jordie: Peanut Butter and Jams is where we showcase local music and talk local food culture. Right now we're into community supported agriculture, recipes, restaurants, booze. On average we do about an hour or two hours of prep. It depends on whether or not we're using pre-recorded interviews and how much editing we're doing. For every minute of dialogue, it involves at least another minute or two of editing. And sometimes it'll be just Brenda or just me, so if it's just one of us, obviously it takes a bit longer.

What are some neat things on your radar right now? Jordie: Well I'm really looking forward to all the bands on Saturday for the Diamond Radioversary, but other than that I'm super excited for the Hopscotch festival at the PNE forum. Wildebeest was good, I want to go back. And I've heard Cannibal Cafe has an amazing burger - I want to try that. My favourite restaurant/bar right now though is Storm Crow - have you been yet? It's a nerdy bar with just really good food, real pints, and good music (because Luke Meat picks the music). What's the best part about being involved with CiTR? What makes CiTR awesome to you? Brenda: I love being surrounded by music nerds every day. 30,000 cds are sitting right next to my office; you soak up music just by being in the space. There's an amazing freshness to having brand new volunteers do their first radio show followed by someone who's been on-air for 25 years, sharing the music that they love. Every show at CiTR gives you a window to a different subculture of the city. And it's always awesome getting a press pass. Jordie: Just getting to know everyone in the vancouver music scene, the friends and connections you make. We needed a theme song for PB+J and you know Chris-a-riffic?  He whipped one up for us, and it's amazing. Do you have any advice for peeps who are wanting to get involved that may be feeling tentative? Jordie: Just come by the station anytime. It's really welcoming. You can take a tour, get a membership, do some training. it's not as difficult as people think it is, but it is more work: It's not hard work, but you have to come in and put the work in in conceptualizing a show. Name a Vancouver band that you met or saw through CiTR that blew. your. mind. Brenda: Almost all my knowledge of Vancouver's scene comes from CiTR. I love the east van Pack AD video with the shirtless hipsters doing jello shooters in the backyard, and seeing Fine Mist, Leah Abramson and Rick White's Hair cover 90's songs at our Fundrive party two years ago. At last year's fundrive, the Defectors put on a wicked Kraftwerk set. I remember seeing Adrian from Apollo Ghosts rock out in a santa hat and someone else crowd surf in a red thong - I think it was at the Mental Beast cd release and finale party.

CiTR is turning 75 but it's moving to a new building in 2014 and your last fundraising event was termed "Tune into the Future" - what keeps CiTR so spry and forward looking? Do you see yourselves stopping at any point? Jordie: I don't see why I would stop, no. It's something fun that I love doing. It actually led towards choosing a different career path for me. My major was in Computer Science, with a minor in Anthropology, and I realized while at CiTR, especially with my involvement with Discorder - I like doing this so much better.

Brenda: What keeps us spry is the constant influx of new volunteers sharing their knowledge, ideas, and their love for whatever new crazy forms of art and music have just arrived... We've got tons of room to experiment and play with new technology and media, little bureaucracy to hinder change, and the freedom to cover anything we feel is important, relevant, fun or crazy....
Get involved. Party on. Spread the love. See you all this weekend!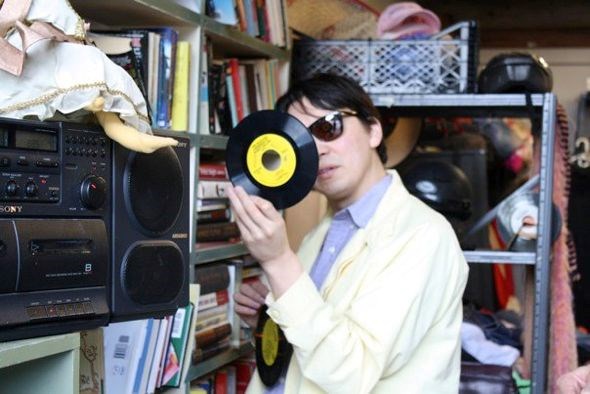 Gratuitous picture of Jordie Yow being Jordie Yow, photo by Alison Atkinson