With the current weather we've been having, getting a parking spot near your house has become paramount.  After hours of shoveling it out..the last thing you want to do is lose it to your pain in the ass neighbour.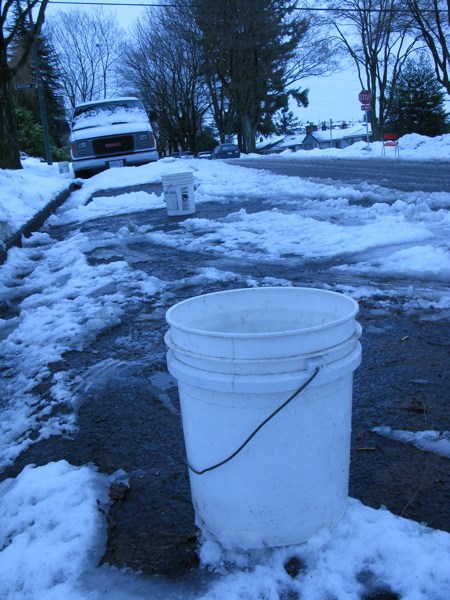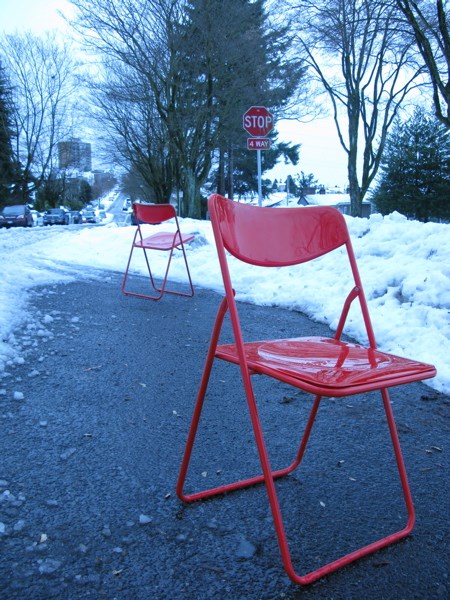 There are several ways of claiming your parking spots in Vancouver.  The most common one I've seen is the buckets method.  I have no idea where people get these buckets, but I'm guessing possibly they once contained a years worth of laundry detergent or someone had garbage duty one too many times and just kept it.  The problem with these are that they are white so they blend in with the snow and smashing into them is fun.  Another method I've seen is the old lawn furniture method.  This normally involves the use of those white plastic chairs everyone had in the early 90's.  The best part of using them is that you're finding another purpose for these chairs, they're much better on the street than in some landfill.  They are also white so they suffer the same drawbacks as the buckets.  On top of that there's that slim chance that they promote loitering of teenagers.  'What....you put these chairs here...I'm sitting on them...what are YOU going to do about it?'  Also smashing into these is even more fun than buckets.  Lastly the most effective way I've seen is the use of coloured pylons.  These aren't that fun to smash, do not blend in with the snow, and also look very official.  Unfortunately they are too effective and will likely get stolen within a couple days.  The above exhibit combines the lawn furniture with the pylon.  I know if these chairs were in the alley they'd be gone, so I'll keep a close eye on how they fair out front.
(bonus pain in the ass neighbour post)
I was doing super good in shoveling my sidewalk but then I got a super bad cold and couldn't do it anymore.  That automatically made me the bastardo neighbour, and guess what I got in return....
Dead crow on my front lawn....how's that for a shitty omen...