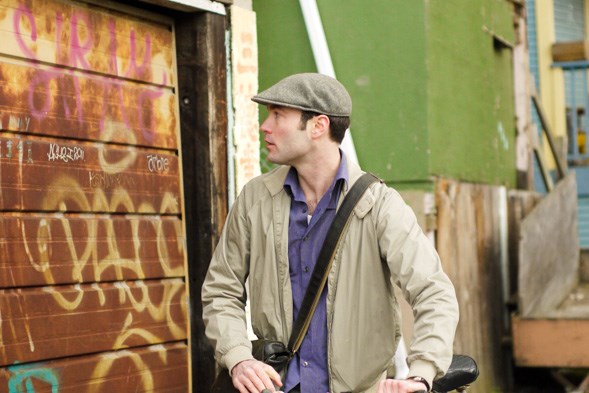 Introducing Byron Dauncey, Vancouver street photographer and lover of bikes. Byron has an exhibit going on now at Initial Gallery on South Granville and 7th Ave. Stop by!
Vancouver Cycle Chic sat down with Byron and asked him a few questions about his work and the role biking plays in it. Here's what he said:
What got you into street photography?
I first got into street art as an admirer of The Dark in 2003/04. His art was large-scale, layered, relevant and arresting. I loved the direct-action bypass of press or gallery that the street allows.
I started making my own small and subtle photo-based art in 2005. They were a series of 1:1 scale electrical outlets and giant light switches. By photo-documenting this work I stumbled into rephotography and then met conceptual artist Andrew Owen who was also employing colour Xerox and 1:1 scale rephotography as part of his practice in Gastown. Together we collaborated on many large-scale photo-based street art interventions and developed our own techniques for producing photo-cubist (or photo-cubic) works.
I like communicating with my city through street-art because it gives me the opportunity to poke people in the brain before they categorize what they're seeing as "art". And on a psychological level, in discovering a pieces of super-subtle public art one feels a personal connection to it. Like they found it.
What role do bikes play in your life and art?
My bike is an essential tool for photography. Compared with walking or driving, the world passes by at an ideal speed. If I see a photo, I can stop and get it without having to find a parking spot first. I have access to to alleys I wouldn't normally walk down, and I have a quick getaway vehicle if somebody wants to chase me down for taking a picture.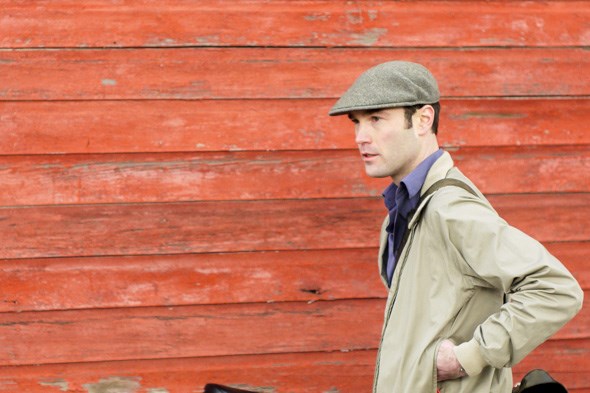 Tell us about your current show.
The exhibit is called Byron Dauncey: Cameraman and it's part of this year's Capture Festival. Included are stills from my surreptitious series Granville Street Saturday Night — candid photographs taken over 44 Saturdays leading up to the Winter Games, and photographs from my extensive street art intervention series Bring Back the Spring, in which I imposed 1:1 scale spring flowers into their dead winter garden beds. There are three photo-cubist still lifes, and in classic Cameraman street-art style I've drastically up-scaled familiar objects like fire-pulls, light-switches and banknotes.
My 1979 Nishiki bicycle made a camio in one of the exhibited photographs — illuminating a piece of street art in Chinatown with its headlight.
Byron's photography exhibit, Byron Dauncey:Cameraman, will be up at Initial Gallery until October 12.
Photos of Byron in this post by Vancouver Cycle Chic.