Every day we share a single photo from our Flickr Pool shot by one of our faithful and talented readers (that's you!).
In the decade since I packed up the car and moved from the 'burbs to the city I've had numerous daily migratory paths. Different jobs, different classes, different home addresses - they all have an effect on how I moved through Vancouver, a great deal of that movement through transit. And no matter where Point A or Point B were and/or are, I almost always find myself transferring from one mode of transportation to another at Broadway and Commercial.
I'm not alone of course - this is a very busy transfer point for many people. Even on a Saturday afternoon, as evidenced by the photograph by Peter Andersen below. Great use of a traffic island for this photo I must say; I've seen many photos taken from the Free Elevation™ offered by the pedestrian walkway, but not many that include it. It's a nice change, I like it. Welcome to Vancouver.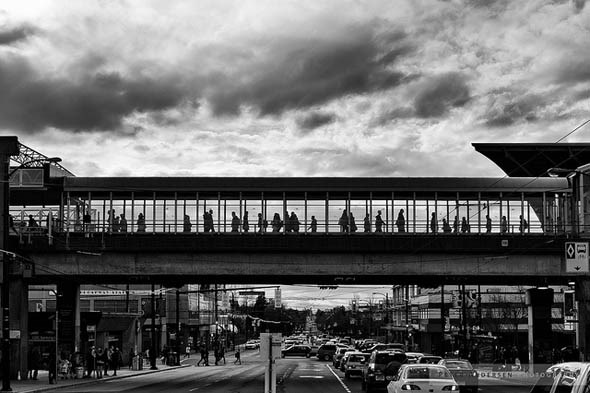 Killer contrast in the sky, too.