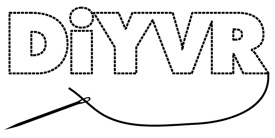 DiYVR is a weekly spotlight on all things handmade, done-by-oneself, crafted and hacked around Vancouver, featuring profiles of makers, event announcements, exhibits and general DIY fun. Know someone or something we should cover? Email me!
Remember back when I wrote about the Vancouver Modern Quilt Guild, and how I was so inspired by the creative energy of the group that I joined despite the fact that I'm not really a quilter? Well, Saturday I attended a day-long retreat in Lions Bay, and now I'm more of a quilter.
What with the DiYVR Challenges, and my general thinking about crafting and making, I've been fascinated by how much is to be gained by not merely doing oneself, but doing together.
At the quilting retreat, I learned more from the friends around me than I would have learned in a formal class, mostly because I got to ask only the questions I needed answered, and then I got to mess around and learn from my mistakes and from others' experience.
Almost every Friday night, I attend the knitting/crochet night at Urban Yarns in Point Grey. We often set challenges for ourselves to undertake on our own, together. Often, everyone will choose the same project to make at the same time. Recently, though, we've been talking about crochet, and not everyone in the group knows how but they want to learn. So we concocted a group project to get us all crocheting together, on our own. We each pitched in to buy a skein of yarn, and each week the all the skeins are passed to a different person in the group. That week, the yarn keeper makes granny squares with the yarn, and on the following Friday night, they pass it on to the next participant. Eventually, we'll sew the squares into baby blankets we'll donate.
It's hard to express how satisfying it is to learn from my peers, and to participate in a large project made more doable by cooperating.
There are tons of groups all over town that do similar things. I've written here about the Vancouver Hack Space, and there are other hack spaces in town, too. The Vancouver Tool Library holds workshops.
So tell me, Vancouver – Which groups do you learn your DIY skills from? Are there things you want to learn in a group, but don't know where or how to find one? Let's have a comments-fest, and hook each other up.