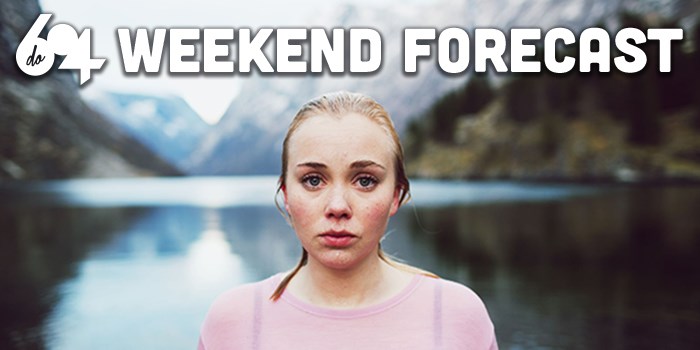 Tonight and tomorrow are the final days of VIFF, but we've got the scoop on even more great film, like the screening of award-winning Violent at International Village, where creators from We Are The City and Amazing Factory will be in attendance for the post-screening Q&A.
Plus heavy rock, indie pop, comedy, an art book fair at the VAG, UK drum n bass, Polaris contender Andy Shauf, and reggae legends Ziggy Marley. There's a lot more to do this weekend than staying dry ;) Get out there and enjoy yourselves, Vancouver!
The Weekend Forecast curated by our city's #KnowFun Selectors at Do604.
Thursday October 13
7 p.m. Bikpela Bagarap @ Museum of Anthropology

8 p.m. Ghost with Marissa Nadler @ the Vogue
8 p.m. Cold War Kids @ Commodore

6 p.m. Landscape Is A Witness @ Franc Gallery
8 p.m. James Blake @ the Orpheum
8:30 p.m. David P Smith record release @ Lanalou's
Friday October 14
7 p.m. Violent @ International Village

8 p.m. Samuel Blaser Quartet @ Western Front

10 p.m. Skeptical and Fracture @ The Waldorf

8 p.m. David Simard, James Lamb & Sam Tudor release @ WISE Hall
9 p.m. Jo Passed tour kick off @ 333
9:30 p.m. Mark Farina @ Imperial
Saturday October 15
7 p.m. Andy Shauf @ the Fox

8 p.m. Gazoline with Alex Toucourt and Julien M'a Dit @ the Biltmore

9 p.m. Quantic @ Imperial

8:30 p.m. Nylithia with Expain and Neck of the Woods @ SBC
9 p.m. Troyboi @ Commodore
10 p.m. North By North with The Godspot @ Fairview Pub
Sunday October 16
7 p.m. Debra Digiovanni @ Biltmore

8 p.m. Ziggy Marley with Jesse Roper @ Vogue

9 p.m. Ashley Eymann @ Guilt & Co
2 p.m. James & Jamesy in the Dark @ Waterfront Theatre
3 p.m. Indigenous Comics Artist Talk @ VAG
7 p.m. The Strumbellas with The Zolas @ the Commodore
Plus!
Thursday, Friday, and Saturday Mechanical Music - Vancouver New Music Festival
Saturday & Sunday Vancouver Art/Book Fair @ VAG
Have an awesome weekend checking out these events! For even more choices of what to do, head to our Vancouver Events calendar, powered by Do604.