It's a new dog every day, click here to find out how to get your dog featured here if you haven't sent in your photos yet!
Today's dog featured in Dogtown Vancouver is Bailey, Loreli L's pup. Here's what she had to say about him...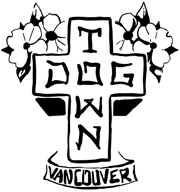 NAME: Bailey.
BREED: Puggle (Pug x Beagle).
HOOD: Kitsilano.
FAVORITE SNACK: Cheeeeeese.
OTHER INFO: Bailey is one utterly adorable puggle. Despite his age, people always ask if he is a puppy. You can find Bailey zipping around offleash at Connaught Park in Kitsilano, or tied up outside of Capers on 4th Ave. He loves to run run run, tear up toys, mark every tree imaginable, cuddle and play with his big brother Baxter.