It's a new dog every day, click here to find out how to get your dog featured here if you haven't sent in your photos yet!
Today's dog featured in Dogtown Vancouver is Buddy, Caitlin Wilson's family dog. Here's what she had to say about him...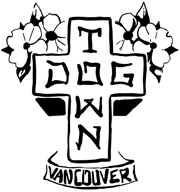 NAME: Buddy.
BREED: mini labradoodle.
HOOD: Kits.
FAVORITE SNACK: I wish I could tell you his favorite snack, but this little guy is allergic to everything, making him more spoiled and high maintenance then your average Kitsilano 17 year old girl.
OTHER INFO: He's probably the most ridiculous dog on earth. His current hairstyle is a mohawk. My parents got him from a breeder in California, and he was supposed to be hypo allergenic and non shedding, he ended up being neither and the breeder gave them half their money back! But after getting to know him I would have paid double!