It's a new dog once a week! Click here to find out how to get your dog posted if you haven't sent in your photos yet!
Today's dog featured in Dogtown Vancouver is Carl, Todd's pup. Here's what he had to say about him...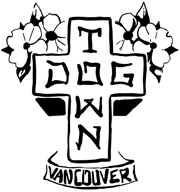 NAME: Carl Helmut Longbody Holloway.
BREED: Pug X Boston Terrier. Bug for short. He's 10 years old. Many of the photos are from when he was younger. He's kinda grey now.
HOOD: Lower Lonsdale in North Vancouver.
FAVOURITE SNACK: That's a hard one. Probably vegetables. He loves ALL food.
OTHER INFO: Carl is crazy smart. His best attribute are his head tilts when someone talks to him. Loves to chase his ball and he's the best spooner ever... Carl the Cuddler is one of his nick names...