It's a new dog every day, click here to find out how to get your dog featured here if you haven't sent in your photos yet!
Today's dog featured in Dogtown Vancouver is Charlie, Holly P's pup. Here's what she had to say about him...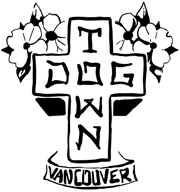 NAME: Charlie.
BREED: American Cocker Spaniel.
HOOD: Burnaby.
FAVORITE SNACK: raw baby carrots and cooked sweet potatoes.
OTHER INFO: Charlie is a senior, he is 10 years old. He loves to play with little dogs and loves to sleep when not playing. He is a gentle soul and a great companion. He lives right on a dog park and will spend hours at the window looking at the other dogs go by.
Charlie loves car rides and if he happens to jump in the car thinking I'm going out, he is very stubborn about getting out of the car. Sometimes so difficult I have had to take him for a car ride around the block to please him.