It's a new dog every day, click here to find out how to get your dog featured here if you haven't sent in your photos yet!
Today's dog featured in Dogtown Vancouver is Cin Cin, Terri K's pup. Here's what she had to say about her...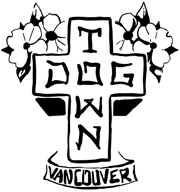 NAME: Cin Cin (a.k.a. Sausage).
BREED: Mastiff x Retriever.
HOOD: Richmond.
FAVORITE SNACK: Bread and Cheese.
OTHER INFO: Cin Cin was adopted 4 years ago from the SPCA and has been spoiled endlessly ever since. She weighs 150lbs, but despite her beastly facade, Cin Cin is a real Teddy bear and enjoys sun-bathing or napping with her purple toy hippo "Wilma." Cin Cin is afraid of most things: small dogs, her own reflection, the dark, vegetables... but we love her anyway.