It's a new dog once a week! Click here to find out how to get your dog posted if you haven't sent in your photos yet!
Today's dog featured in Dogtown Vancouver is Dallas, Andrew's pup. Here's what he had to say about her...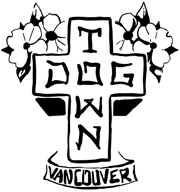 NAME: Dallas.
BREED: Australian Shepherd.
HOOD: South Granville.
FAVOURITE SNACK: Turkey jerky.
OTHER INFO: Dallas is the coolest dog in the world and makes her lucky owners' lives infinitely better every day.  She is super playful and cuddly and her favourite thing is losing toys under couches and other furniture and then alerting her people to retrieve them for her so she can lose them again.  Dal loves anyone and everyone she has ever met, and is on an endless quest to befriend people who are not comfortable around dogs.  It's part of her charm.