It's a new dog once a week! Click here to find out how to get your dog posted if you haven't sent in your photos yet!
Today's dog featured in Dogtown Vancouver is Finley, Shelley's pup. Here's what she had to say about him...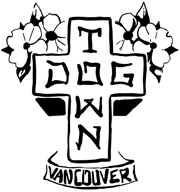 NAME: Finley.
BREED: Irish Terrier.
HOOD: Westend- Davie Street.
FAVOURITE SNACK: Shoes, paper, cardboard, rubber, tennis balls and avocados.
OTHER INFO: Two year old soccer playing, child chasing, wet nosed cuddle love machine!.