It's a new dog twice a week! Click here to find out how to get your dog posted if you haven't sent in your photos yet!
Today's dog featured in Dogtown Vancouver is Georgio, Robert F's pup. Here's what he had to say about him...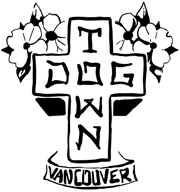 NAME: Georgio Armanio.
BREED: Husky x German Shepard.
HOOD: Mount Pleasant via Saskatchewan.
FAVOURITE SNACK: Kleenex.
OTHER INFO: GG embodies all that is good in the world.