It's a new dog once a week! Click here to find out how to get your dog posted if you haven't sent in your photos yet!
Today's Dogtown is a special edition, featuring the Canine Ambassadors of the Fairmont Hotel Vancouver, Mavis and Beau. Here's what they had to say about them...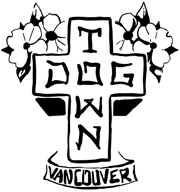 NAME: Mavis and Beau.
BREED: Yellow Labrador and Labrador/Retriever mix.
HOOD: West End.
FAVOURITE SNACK: Organic Beef Granola Bars and Turkey & Spinach Paw-Stickers from the Fairmont 'doggie' menu.
OTHER INFO: Mavis and Beau are two of the most famous concierges at the Fairmont Hotel Vancouver. Their job is to greet guests, provide a warm welcome, and make the guests feel at home during their stay. They will shake hands, take scenic walks with visitors, and when they're off-duty... will curl up on the floor in the hotel lobby.
Thanks to the Fairmont brand's Canine Ambassador Program, hotel visitors don't have to give up their dog-owning routine while they're away on business or vacation. The dogs are trained by Canadian Guide Dogs for the Blind for maximum hospitality and manners.