It's a new dog once a week! Click here to find out how to get your dog posted if you haven't sent in your photos yet!
Today's dog featured in Dogtown Vancouver is Ninja, Kristy M's pup. Here's what she had to say about him...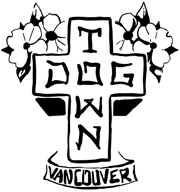 NAME: Ninja.
BREED: Catahoula X.
HOOD: East Vancouver!!!
FAVOURITE SNACK: Anything humans are eating except fruit! eww...
OTHER INFO: My name used to be Buck... ah no! So I changed it when I moved to the big city! I was a rescue and now have an awesome life running around town doing what I want. Ninjas don't wear leashes, that's just embarrassing! As long as I have my ball, frizbee or a good stick I am one happy Ninja! I can leap over lakes and open doors with my awesome mind control and take my self for walks! I love the Swiss bakery and the Legacy Liquor store, I make them give me treats! mmm... My birthday is on HALLOWEEN! OH YEAH! Best day of the year for Ninja's to run wild with their nunchucks and the ninja stars are sharpened!! My mum takes me everywhere and Everyone loves me and that's how AWESWOME I am!
If you're interested in adopting a pet, check out our Happy Tails feature. If you adopted your pet from the SPCA and would like to share your awesome story on Happy Tails, send an email to Rory.Blanchard@novusnow.ca.