It's a new dog every day, click here to find out how to get your dog featured here if you haven't sent in your photos yet!
Today's dog featured in Dogtown Vancouver is Odin, Rayna W's pup. Here's what he had to say about himself...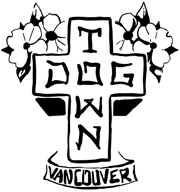 NAME: Odin.
BREED: Lab/Pittie X.
HOOD: Fairview/Kits-ish hood.
FAVORITE SNACK: Is this a trick question?
OTHER INFO: After spending a while at the pound I rather dislike confined spaces ... The second day home with my new 'human' I ate a giant hole in her bedroom door and squeezed myself through it to freedom (and the sofa) while she was out.