It's a new dog every day, click here to find out how to get your dog featured here if you haven't sent in your photos yet!
Today's dog featured in Dogtown Vancouver is Phife Dawg, Scott B's pup. Here's what he had to say about her...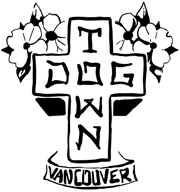 NAME: Phife Dawg.
BREED: Mix, the Vet figures some sort of Shepard/Terrier Mix.
HOOD: Langley.
FAVORITE SNACK: Cat food.
OTHER INFO: We picked Phife Dawg up from a rescue shelter in Northern BC. She was basically an online purchase for like $100.00 I just called up the rescue and asked if they had any puppies? I requested the runt or ugly one that no one wanted. They emailed me some photos and video of Phife and my wife and I just fell in love with her right away. Someone happened to be traveling down to the Lower Mainland so Phife hitched a ride with them and we had her in our hands a few days later.
So her story goes.. her mother and father were stray's living along a river up north feeding off the Salmon scraps that the bears left behind. Someone found Phifes mom all super prego and brought her into the rescue shelter she gave birth to Phife and then died. There just happened to be another dog that just gave birth to some puppies so she became the surrogate mother for Phife.
Phife knows a hand full of tricks but only does them half the time. She will be turing 3 years old on April 1st.