It's a new dog once a week! Click here to find out how to get your dog posted if you haven't sent in your photos yet!
Today's dog featured in Dogtown Vancouver is Spartacus, Patricia's pup. Here's what she had to say about him...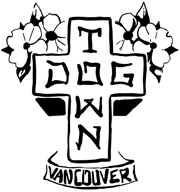 NAME: Spartacus.
BREED: Jack Russell Terrier.
HOOD: West Point Grey.
FAVOURITE SNACK:  Spartacus is a huge fan of dried lamb dog treats, and will demonstrate his everlasting affection if you give him cheese. .
OTHER INFO: "Sparty" loves to taunt squirrels, and entertains himself by burying chew toys in the yard, then forgetting their location.  Destroying soccer balls, walking through Pacific Spirit Park, playing with kids, stealing sandwiches off of the coffee table, and sleeping in the sun are his favourite activities.