It's a new dog once a week! Click here to find out how to get your dog posted if you haven't sent in your photos yet!
Today's dog featured in Dogtown Vancouver is Vito, Kathleen M's pup. Here's what she had to say about him...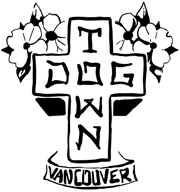 NAME: Vito.
BREED: Lagotto Romagnolo.
HOOD: Kits.
FAVOURITE SNACK: He'll do anything for a dried chicken liver or lamb lung snack. But most of all, he loves socks and shoes.
OTHER INFO: This is Vito, the Lagotto Romagnolo, otherwise known as Italian Water Dog. It is an ancient breed, but it almost died out until a doctor decided to breed it back into health. Around the mid-1990s they made a comeback. They are now bred as truffle-hunters. They are high energy, super-smart, and hypo-allergenic.
Vito is 2 years old and lives in Kits after spending his first six months in Portland, Oregon, and then Mt. Pleasant. The only thing he likes more than chasing a ball is jumping into the sea. He swims like an otter, tirelessly and vigorously. He loves to lie on the socks and shoes of family members who leave the house.
If you're interested in adopting a pet, check out our Happy Tails feature. If you adopted your pet from the SPCA and would like to share your awesome story on Happy Tails, send an email to Rory.Blanchard@novusnow.ca.