It's a new dog every day, click here to find out how to get your dog featured here if you haven't sent in your photos yet!
Today's dog featured in Dogtown Vancouver is Zoe, Alex J's pup. Here's what he had to say about her...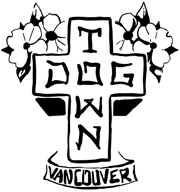 NAME: Zoe.
BREED: German Shepherd.
HOOD: North Burnaby.
FAVORITE SNACK: Cat shaped cookies from the Big Dog Little Dog Bakery.
OTHER INFO: Zoe loves to go to the park. Her worst enemy, BIRDS!