Today is DROP EVERYTHING AND READ DAY in BC! What this means is that you should stop what you're doing at 11AM and read something. Anything.
I only heard about D.E.A.R.D. at the 11th hour so I suppose it's fitting that I'll be reading David Suzuki's The Legacy, published by Greystone Books. It's an expanded version of his Legacy lecture that he gave last year, essentially summing up everything he has learned and wants to pass on before he leaves us. The lecture was written for the documentary film, Force Of Nature, that V.I.A. PRESENTED at this year's VIFF and while it may seem doom and gloom it is important reading with an inspiring and positive message about the world we are living in and how we still need to change in order to sustain human life on it.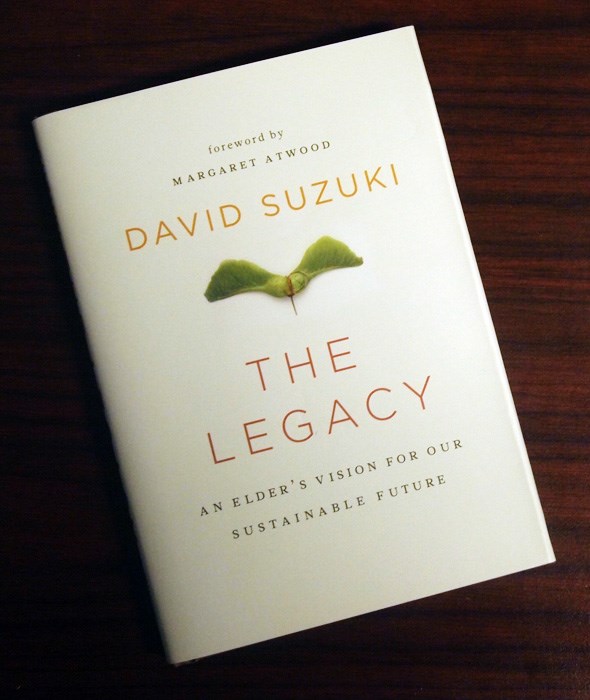 Here's a letter from Margaret MacDiarmid, BC's Minister of Education, explaining what this day is all about (this could count as your reading but a book or newspaper or magazine or anything else would be better):
Reading is a priceless gift we can give our children and ourselves. It not only helps ensure success throughout our lives, but opens up new worlds to us every day.
Can you imagine what could happen if you couldn't read a prescription bottle or understand instructions from your doctor? More than one million British Columbians struggle with literacy, and as a doctor, I saw first-hand the effects that low literacy has on people's health and lives.
Reading is the foundation everyone must have to be successful. Strong reading skills bring self-confidence and a better quality of life, which is what I want for every British Columbian. Literacy truly transforms lives.
That's why I encourage you to Drop Everything and Read at 11 a.m. on Oct. 25. Take a break from your hectic day and grab your favourite book or magazine, or snuggle up on the couch with your children and their favourite book, and indulge in the joy of reading for 20 minutes.
But don't stop there. Did you know that simple things like reading and telling stories to a child at 18 months are powerful stimuli for brain development, or that reading to children more than once a day has a substantial positive impact on their future academic skills? Moreover, research shows that children aged two and three who are read to several times a day do better in kindergarten by age four or five than children who are read to only a few times a week.
Reading is like anything else – practice makes perfect. The more time you can spend reading as a family, the better. In fact, reading together builds stronger family relationships, encourages children's imaginations and, best of all, helps children develop a lifelong love of reading and learning.
The Province proclaimed October as Library Month in B.C. In addition to Drop Everything and Read Day, Oct. 25 also marks the eighth National School Library Day.
So, please drop everything and read on Oct. 25 as a show of support for literacy and libraries around the province.