I've been spreading the word a little bit on Twitter about this over the past couple of weeks and am now happy to announce, officially, that we've partnered with Science World and Yelp.ca to help produce the Expo 86 Quarter Century Look-back Party on May 6th!
My personal fascination with the World's Fair that our city hosted almost 25 years ago comes from a place of never attending. Growing up in the Okanagan in a no-exactly-well-to-do household, I was 9 when Expo happened and my parents were just able to scrape together enough cash to attend themselves but not enough to bring the kids. They did, however, bring us back those sweet ringer tees that you might remember, and ever since I've been left with this yearning for something I never had, which was experiencing Expo 86, and I've come to collect quite a bit of other trinkets and collectibles that I've found through Ebay and Craigslist. Up until the night of the party I'll be sharing some of these artifacts with you and asking that you send me photos of the Expo 86 stuff that you have in your collection so I can post it here as well!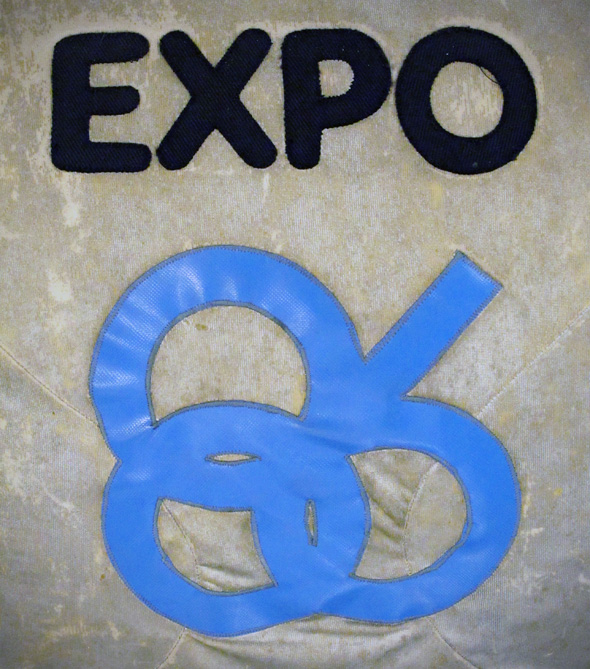 Here are the details of the party, make sure to get your tickets early!:
It's been 25 years since Vancouver celebrated its centennial with Expo 86, and it's through that colourful summer of cultural collaboration that we the wonderful building which became Science World at TELUS World of Science came into being!
Join us in looking back at Expo 86 during this memorable adults-only evening.
Party like it's 1986 with:
- Live cover band Crucial Taunt playing 80s tunes
- Films made just for Expo 86
- Limited edition Expo 86 inspired screen prints (BYO-T-Shirt!)
- Archival footage of Expo 86, specially curated by the Vancouver Archives
- A photobooth
- Expo 86 inspired artwork by Jeremy Shaw
- A special evening showing of HUBBLE in the OMNIMAX Theatre (Showing at 8pm)
Location: Science World at TELUS World of Science
Date: May 6, 2011
Time: 7pm-10:30 pm
Before May 5:
$10
$15 w/ OMNIMAX film (Hubble, showing at 8pm)
(+$2.50 convenience fee for online and phone bookings)
Or purchase over the phone at 604.443.7500
At the door:
$15
$20 w/ OMNIMAX film (Hubble, showing at 8pm)
In collaboration with Vancouver is Awesome and Yelp Vancouver.