While there are a number of things to do with a loved one the whole year round, there are a number of fall date ideas that are truly special.
Whether you want to enjoy some time with someone new, or simply enjoy some time with your significant other, these ideas are the perfect way to enjoy a fall date.
Fall Date Ideas
Science World
Science World was recently named the most iconic building in Vancouver in a recent poll hosted by CBC Municipal Affairs reporter Justin McElroy. It isn't hard to see why: the shimmering geodesic dome is the crown jewel of False Creek. With over 391 lights and 766 triangles, the dome lights up the waterfront at night, and shines brilliantly during the day. In addition, it has a massive Omnimax Theatre with seating for 400 people. It makes the perfect place for a date, and its even a great choice when its raining.
Fall Foliage Exploring
There are a multitude of places to hunt for fall foliage in Metro Vancouver, and each of them provides a kaleidoscope of warm, vibrant colours to gaze upon. While summertime in Vancouver is ideal time for visiting the beach, Vancouver's parks are breathtaking during the fall. You can visit one of Vancouver's famous parks, or simply stroll down a tree-lined street to soak in the autumnal offerings. Bon appetit!
Pumpkin Patch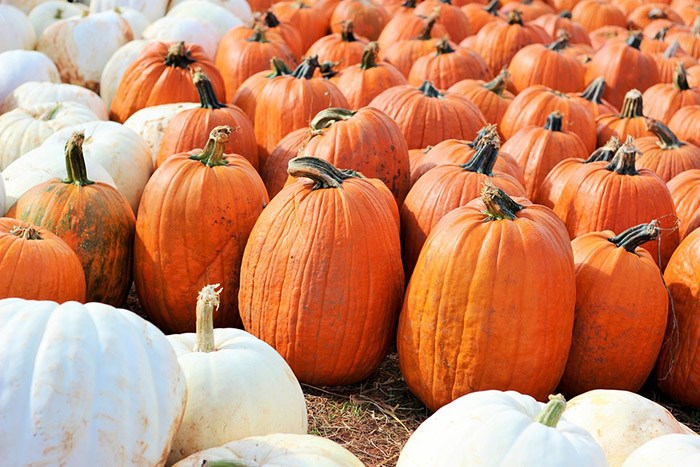 While some people consider pumpkin patches a family affair, they can actually make a really adorable date! For one, the pumpkin patches of today offer far more than pumpkins:  you can enjoy food, drink, mazes, markets, and so much more at these attractions. What's more, the date offering a fun second part, where you and your sweetie can enjoy carving the pumpkins together.
Autumn Hike
Of course, hikes can take place nearly all year around in the Lower Mainland; however, some of them are not available during the winter season as they become dangerous. Moreover, you may simply not want to embark on a hike when it is really cold outside. With that being said, fall is the perfect time to take that special someone hiking. Not only will you be privy to an abundance of beautiful foliage, but you'll also get to enjoy the crisp weather.
Haunted Houses
It may not seem like a typical romantic date, but a haunted house adventure is an exciting fall outing. What's more, if you are really brave, you may impress your date. Also, these types of places tend to invoke a great deal of laughter, which always breaks the ice (if this is a first date.) Alternatively, if you've been with someone for a long time, this is the fun way to mix things up. Happy shrieking!
Corn Maze
You can take a lovely, relaxing afternoon, or enjoy a terrifying romp through the scariest one in Canada. Once again, this isn't the most romantic date idea, but it certainly the most thrilling. Haunted houses are scary, but this excursion may scare you to the depths of your soul. What's more, the Maan's Farm Haunted Corn Maze offers "five acres of pure terror." Obviously, this idea isn't for the faint of heart; however, there are a few corn mazes to choose from in the Lower Mainland, and the rest offer relaxed fun.
Attend Oktoberfest
You don't have to fly to Duitsland to savour some scrumptious Oktoberfest offerings. In fact, Vancouver holds a litany of the events throughout the end of September and October. You can enjoy an array of scrumptious foods with your date while sipping on some craft beer (which will make you much less nervous.)
Visit Fright Nights
During the summer the PNE is the perfect place to bring your date for an evening. Come fall, Fight Nights offers a super fun alternative to a boring date night. Not only will you have the chance to enjoy over 20 stomach-dropping rides, but you will also get the chance to catch gripping live shows, and eight haunted houses. There's a great deal of entertainment, but you can also enjoy a plethora of mouth-watering foods and yummy treats.
Fall Eats
The Shameless Buns food truck, which launched in Vancouver late this spring, has been rolling out a pumpkin spice seasonal special of their own – and one like no other: Pumpkin Spice Spam Fries. For those who prefer to drink their pumpkin spice, there are a number of places across the city that sell pumpkin flavoured coffee beverages. In addition, a number of local breweries are offering a variety of pumpkin flavoured beer to end a beautiful fall day.
Haunted Trolley Tour
The Haunted Vancouver Trolley Tour is returning to the city this Halloween season with plenty of bone-chilling tales and spooky locations. As the trolley winds its way through shadowy Gastown streets, a host will tell the gruesome tales of The Castelanni Milkshake Murder, the Fairmont Hotel Vancouver's Lady in Red and more. The tour also travels through Stanley Park, which is especially eerie on a cold, autumn night. Guests will hear about the tale of "The Babes in the Woods," and the trolley will wind its way through the roads and mansions of Shaughnessy.