I'm extremely excited and proud to announce our fall book club event cosponsored with the Vancouver Public Library - Lightweb Darkweb: an evening with Raffi.
On October 9th, join our distinguished author who calls for systemic changes to make Internet use safe, intelligent, and sustainable.  The evening will begin with an author presentation and reading, followed by a moderated discussion with special guests from the Red Hood Project, an initiative advocating for child honouring and safety in the increasingly connected and digital age. There's still time for you to pick up a copy before October 9th! You can find Lightweb Darkweb at Banyen Books on 4th Avenue, Humpty Dumpty Books on Granville Island, online, or download the e-book through Indigo's KOBO site. No fear if you can't get around to reading the book before the event: we'll have copies available for purchase and Raffi will be signing them!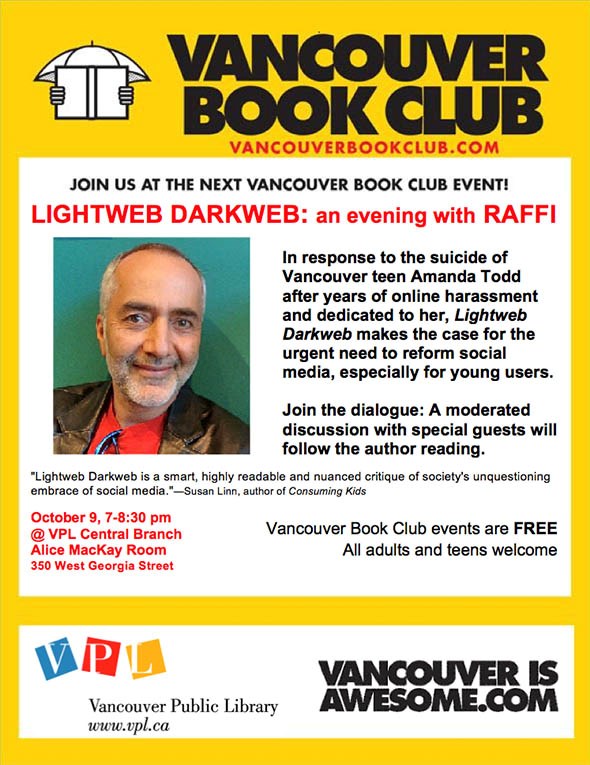 Lightweb Darkweb questions the current trend of unbridled digitization. Raffi carefully explores the pernicious effects of an omnipresent social media against the most vulnerable players in current internet culture: children and teens. Falling on the eve of the one year anniversary of Amanda Todd's death, for whom the book is dedicated, this VPL cosponsored event is sure to be a ripe forum for discussion on this important, urgent issue.
Apart from being the most beloved Canadian troubadour in years both past and present, Raffi is a tech enthusiast, entrepreneur, and ecology advocate. He holds three honorary degrees, is the recipient of numerous awards, and is a Member of the Order of Canada and the Club of Budapest.
Don't miss out on this awesome opportunity for engagement and dialogue with the one and only Raffi.
Be sure to check out Child Honouring and Red Hood Project in the meantime, and be sure to follow The Vancouver Bookclub on Facebook and Twitter.