You know that sinking feeling you get in your stomach when you realize that your friend's birthday is right around the corner and you haven't made any plans yet to celebrate it? You know you've got to figure something out soon or else you'll be doomed to sending a cheesy "Good things come to those who wait – happy Belated Bday!" card and becoming that friend.
Well sorry to be the bearer of bad news but Charles Darwin's 207th birthday is right around the corner (on Friday, February 12th). Yep we thought you forgot. But never fear the Beaty is here! We have an extravaganza of epic proportions planned.
Cake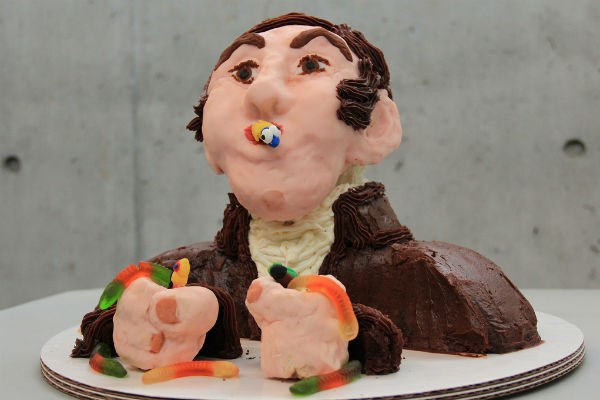 It all starts with cake as any good birthday celebration should. But of course, there is a Darwin spin as it is his special day. We are having our annual Bake a Cake for Darwin contest. Make an evolution themed cake and Darwin will judge and proclaim a winner. Losers are eaten natural-selection style.
This is a free event open to everyone to either enter a cake into the contest or watch (and eat!). You can set up your cake at 4:00pm and judging begins at 4:30pm.
Can't make it to the museum? Or fear your cake wouldn't survive the journey? You can enter the contest online. You could win a Beaty Biodiversity Museum museum membership by entering your cake or a design for one.

The online contest is on now until Thursday February 11th. We'll announce a winner on Darwin's birthday.
Nerd Nite
This year we're partnering with Nerd Nite Vancouver to have beer and evolution themed talks in the museum (under our blue whale skeleton).
This part is 19+ and requires tickets (selling out fast!). We have three 20 minute talks:
#1 The hidden lives of galaxies By: Dr. Laura Ferrarese #2 Seductive Spiders By: Dr. Wayne Maddison #3 Can Darwin Help Us Save the Planet By: Dr. Arne Mooers
There is plenty of time to toast your favourite birthday boy with a beer between and during the talks.
So we'll see you at Darwin's birthday party on Friday February 12th!