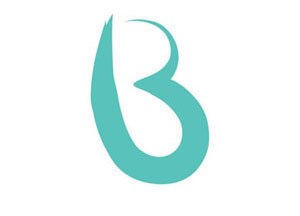 IT'S FITNESS

FRIDAY

!
For the next 3 months I'm blogging about my adventure to complete the 36 classes in 90 challenge put on by and in partnership with Barre Fitness!Hopefully you'll join me and be motivated to get fit! I'll be sharing recipes, exercises, class and workshop ideas, and more.And *BONUS* if when I complete the challenge and go to 36 classes, I get to give away TWO 2-Week Trial passes to Barre Fitness to some lucky VIA readers!
So encourage me on twitter follow the challenge hashtag: #BBFC and I'll see you at the Barre!
So remember when I was all gung-ho and excited to get healthy and fit with the Barre Body Fitness Challenge? Well my body said: Instead, you're going to get so sick that you can't eat and barely can walk up stairs!!! (seriously, please tweet me something to fix myself!)
Needless to say my first five days of the challenge didn't see many classes, but I'm determined to make up for it next week...just you wait! (There are already tons of ladies on the chart in the studio that are kicking butt). I did take a class with the wonderful Scovia this week and you should have seen me trying to walk the next day. Love it!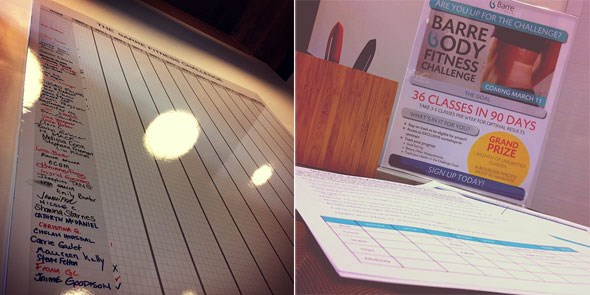 (photos from the Barre Fitness instagram!)
Speaking of classes, since I'm still new to Barre, I've only really been to the Classic Barre and Barre Fitness classes, but now that I'm becoming a regular, I'm totally excited to try the other ones offered, esp. Barre Flow which I've signed up for this coming week! Check out the list of regular classes and descriptions after the jump, which I nabbed from the Barre Fitness website right HERE and keep an eye out for more of the special classes for challenge!:
Barre Fitness.
An exceptional one-hour regime of ballet, pilates, strength and flexibility training using a ballet barre. This total body conditioning technique has been intertwined to create an intense workout, guaranteed to transform and sculpt your entire body. The classes are choreographed to the hottest music in a fun, supportive and high-energy environment. Open to all levels.
Barre Bootcamp.
An athletic twist on the Barre Fitness™ class. A rigorous routine incorporating elements of traditional barre, sports conditioning and cardio intervals to pump you up! Open to all levels – but not for the faint of heart! This class is not recommended for new clients.
Barre Flow.
A revitalizing and restorative Barre Fitness™ class, using a combination of dynamic and active stretching techniques, and dance conditioning paired with a deep focus on elongation and breath. This class will not only tone the body, it will focus the mind too! Open to all levels.
Cardio Barre.
A total barre conditioning class combining the heart healthy benefits of cardio with the strength and toning of Barre Fitness and finishing with an invigorating stretch. Open to all levels.
Classic Barre.
The original Barre Fitness™ program! A high energy class that emphasizes the foundations of Barre Fitness™, with a strong focus on postural strength, alignment, breath and muscle action. A more basic approach to Barre Fitness™ classes but equally as challenging. Open to all levels. Recommended for new clients.
Power Barre.
A 75 minute class geared towards clients with a strong understanding of the Barre Fitness technique. A more intense, vigorous and challenging workout both physically and mentally. It is recommended that clients take a minimum of 20 open level classes prior to their first Power Barre class or have a strong dance/fitness background.
Raise the Barre.
BYOD – Bring Your Own Donation! This Barre Fitness class requires a min of $10 donation from all participants. All proceeds will be donated monthly to a charity chosen by our clients! Open to all levels.
Xpress Barre.
A 40-45 minute version of the invigorating Barre Fitness™ workout… for people on the go! Open to all levels. Due to the pace of the class, it is not recommended for first time clients.
Prenatal Barre.
Congratulations, you're expecting! We hope to enhance these important months by motivating and inspiring you to be fit, strong and beautiful. Suitable for both prenatal clients as well as newly postnatal clients. Pre-registration is required please visit our Bellies at the Barre page for more details.
That's it for this week! See you at the Barre!