Have you checked out the V.I.A.-sponsored From Rationing to Ravishing exhibit at Museum of Vancouver yet? 80 garments were brought together from the collections of guest curators Ivan Sayers and Claus Jahnke as well as from the vaults of the Museum of Vancouver, telling the story of how WWII changed fashion for women. During the war, fashion designers emphasized manliness. In peacetime, a womanly silhouette returned. Then, in the 1950s, girlishness became the rage. A walk through the exhibit takes you through it all.
One of my favourite things I came upon during my visit is this wonderful afternoon dress (pictured right) from the 1950's. As part of the BC Centennial celebrations in 1958 sewers made garments out of cotton bunting that was meant to decorate kiosks, community centres, and parade floats. Akin to making clothing out of those banners that rotate on the Burrard Street bridge (did you get one of the Olympic ones? We did!) it throws back to what I can only imagine was a joyful time in our city and province. Accompanying this is also the Official Centennial Record book from 1958 (limited edition, of course) that we also have a copy of in the V.I.A. "library" as I like to call it (it's more like a medium-sized collection of Vancouver/BC-related books).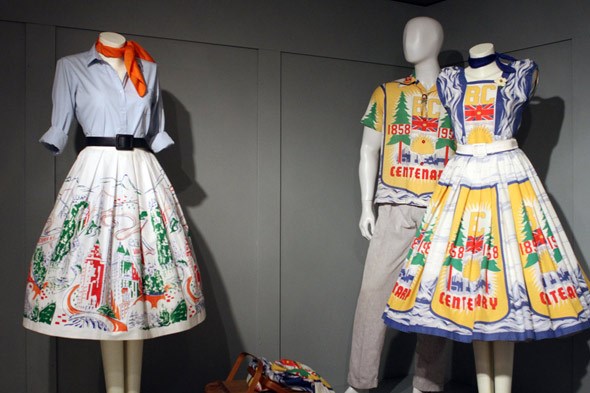 The paper doll table is another favourite. They've got templates inspired by artifacts in their collection and you can cut them out as well as make your own designs then hang them amongst others. Big kids and little kids can get into this one.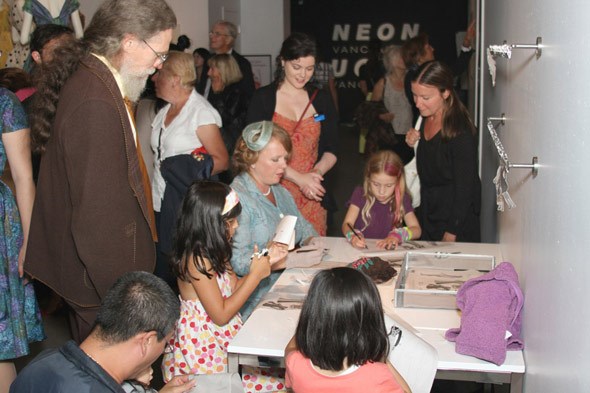 There's a lot more to explore in this exhibit than these two pieces. Learn more about it HERE then down to Museum of Vancouver in Vanier Park and check it out.