Vancouver Is Awesome is a proud media partner of this year's Gallery Hop Vancouver! Watch this space over the coming days for previews and insight on the free tours and talks taking place during this year's event!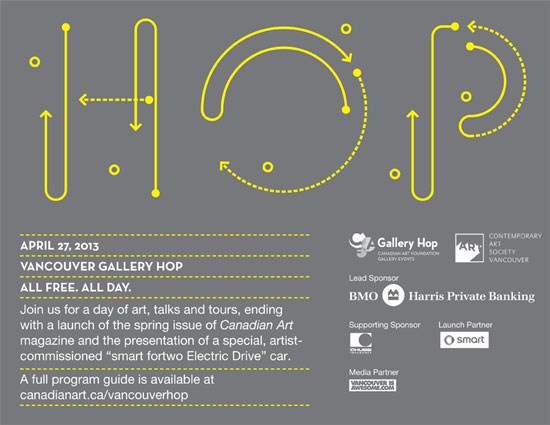 Written by: Jennie Biltek
Just as the blooming of the cherry blossoms signals the beginning of spring for gardeners, the Gallery Hop Vancouver on Saturday April 27th notes the official beginning of spring for the city's visual arts community. Once again, the Canadian Art Foundation and the Contemporary Art Society of Vancouver have joined forces for a day of free tours and talks, all focusing on contemporary art.  And everyone is invited.  What makes the Hop so unique is that it's free and open to the public – no membership required, no entry fee, no suggested donation – just a day of discovering, sharing and learning about art!
Here's a sneak peek at some of the free tours:
Tour 1 is perfect for rediscovering the changing art scene on Main Street and the surrounding area.  I'm leading this tour, where we'll visit CSA Space, Wil Aballe Art Projects and Winsor Gallery. The tour will end with reflections from writer and Canadian Art magazine contributor Aaron Peck on the works of Andrea Buttner, Joelle De La Casinie?re and Gareth Moore at Catriona Jeffries.
If you've ever wondered about public art in Yaletown and the False Creek waterfront Tour 2 will answer your questions (while you get in your cardio!).  Led by Rachel Lafo, Director of Richmond Art Gallery and President of the Contemporary Art Society of Vancouver, you'll learn about the following works Ring Gear, Alan Storey's Cooper Mews, Jerry Pethick's Time Top, Noel Best and Christos Dikeakos's Lookout, Henry Tsang's Welcome to the Land of Light and Gisele Amantea's Red Horizontal.  A must-do if you aren't familiar with public art in the city – and a perfect way to show-off on your next tour of the seawall.
Tour 3 will take you through Vancouver's downtown.  Join Contemporary Art Society of Vancouver's Kristina Fiedrich ?as this tour kicks-off with a talk at Satellite Gallery where curator Katie Schroeder will speak about "Full Frontal," an exhibition that explores the relationship between male sexuality and masculinity within contemporary society. See work by Noam Gonick, Brian Jungen, Robert Mapplethorpe and Wolfgang Tillmans.? The tour will continue with stops at Republic Gallery and Jennifer Kostuik Gallery, concluding at the Contemporary Art Gallery with an extended talk by Executive Director Nigel Prince.
Holly Armishaw, artist and Contemporary Art Society of Vancouver board member will lead Tour 4.  Join her as she takes you through Vancouver's new art hot-spot Great Northern Way – soon to be home of the new Emily Carr University! Visit Grunt Gallery, Equinox Gallery and Monte Clark Gallery where Jordan Strom, Curator of Exhibitions and Collections at the Surrey Art Gallery, will speak about Owen Kydd's video works.  If you haven't discovered this area yet, this is a perfect opportunity!
The last tour of the day offers an inside look at Gastown and Chinatown and is led by Contemporary Art Society of Vancouver board member Julia Kristjanson.  At 221A, curators Vanessa Kwan and Kimberly Phillips will offer their insights work by Kara Uzelman (more about Uzelman in upcoming posts)!  The tour also includes stops at The Apartment, UNIT/PITT Projects, Audain Gallery and Trench Contemporary.
Not sure where to start?  I suggest you try the Triple Whammy!  Start with Tour 1 on Main Street, skip over to Tour 3 of Great Northern Way then head downtown for Tour 5 of Gastown & Chinatown!  For more information and details about the Hop visit canadianart.ca/vancouverhop.