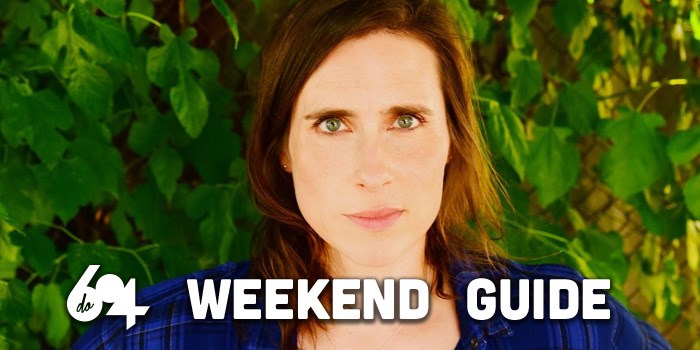 We know roses aren't in bloom, it's Irish green everywhere! Start your weekend with the best St Patrick's Day events in Do604's St Patrick's Guide to Vancouver and keep that whiskey and Guinness flow going right through to Rose Cousin's captivating jazz at The WISE Hall on Sunday!
We want to make sure you're tingling with fun for the next four days and nights, so here's the 28 top things to do this weekend, as picked by our city's #knowfun Selectors at Do604.
Thurs March 16
Ben Caplan & The Casual Smokers at St James Hall
Be charmed when ancient and modern acoustic influences from all over the world swirl around you.

Gentlemen Hecklers presents The Running Man at The Rio
Get blasted into Stephen King's sci-fi novel and laugh at the eerie cooincidence between this dystopian American society and the actual current one.

The Internet at The Imperial
Don't sit on the sidelines! Get down to the Imperial and vibe to The Internet's mad soul jams.

Big Wild at Venue
Fri March 17
MØ at The Vogue
Dive into the bottomless pit of young adulthood with MØ's powerful and versatile vocals.

The Hodgetwins at The Biltmore
There's going to be absolutely no filters so be prepared to laugh until your stomach is in knots!

St. Patrick's Day Festival at The Blarney Stone
A whole day of Irish mania and fun! Hula hoops, prizes, stilts, face painting, and drinking. Lots and lots of drinking.

Sat March 18
I M U R at Celebrities Underground
You might feel a "Little Dead" the next morning, but that's ok because electro soul this good never hurt anybody.

Kellen Saip & Del Suelo at Cafe Deux Soleils
Folksy blues with subtle undertones of soul combines with rock, pop and punk vibes to cover all your favourite genres!

The Coathangers at Fortune
You'll fall for their charming nature and primal garage rock vibes.

Sun March 19
Fucked Up at The Cobalt
Get F**KED when Fucked Up takes their rockin' punk to The Cobalt Stage.

VWF's Youtuber Afternoon at Performance Works
Learn a thing or two from these awesome youtubers and kickstart your own channel!

Rose Cousins at The WISE Hall
Step out of your comfort zone and feel Rose Cousins' jazz tingle your senses.

All weekend
Have a great weekend checking out these events! You can always head to our
Vancouver Events calendar
, powered by
Do604
, for a full list of our recommended things to see and do in Vancouver.