The amazing folks over at Sole Food have launched a campaign today to raise $100,000 in 19 days. That's a pretty crazy goal! So what will the money be going towards?
If you're not already familiar with them, Sole Food turns vacant urban land into 'street farms' in Vancouver's Downtown Eastside. You know that parking lot by BC Place that was converted into a garden? That's them. Through growing artisan quality fruits and vegetables, their mission is to empower individuals with limited resources by providing jobs, agricultural training and inclusion in a supportive community of farmers and food lovers. What's not to love about that?
With this fundraiser, they hope to open two retail locations - one on Granville Island and one at their urban orchard at Main and Terminal - to grow more local, organic food in Vancouver and create year-round employment for DTES residents.
Support Sole Food farms by donating via their website: www.solefoodfarms.com.
Interested in meeting your local urban farmer? Come to their campaign launch party this evening: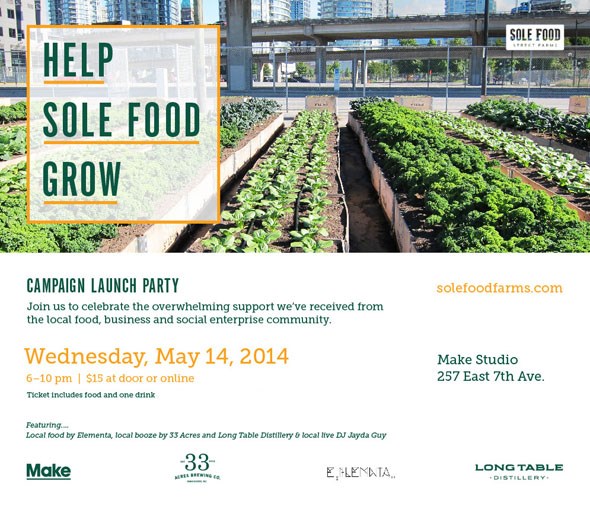 You can register for the event over on Eventbrite. If you miss the deadline, limited tickets will still be available for $15 at the door.
Bonus: Ticket includes food and one drink!